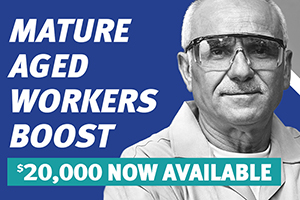 ---
The Back to Work $20,000 Mature Aged Worker Boost Payments are available for both the Back to Work Regional and Back to Work South East Queensland packages.
The $20,000 Mature Aged Worker Boost payment is specifically targeted towards employers who hire eligible unemployed mature aged job seekers aged 55 years or over during the eligibility period between 1 January 2018 and 30 June 2018. (inclusive).
Support payments currently available for eligible employers of up to:
Payments are made in three parts:
first payment of $6,000 after 4 weeks of continuous employment. This means you aren't out of pocket for wages while you get your new employee up to speed
Second payment of $7,000 after 26 weeks of continuous employment; and
Final payment of $7,000 on completion of 52 weeks continuous employment
Subsidies are available for both full-time and part-time employment. Eligible part-time jobs attract 75 per cent of the full payment.
Each eligible employer may claim a maximum of five (5) Back to Work SEQ and five (5) Back to Work Regional applications. This cap applies to Employer Support, Youth Boost and Mature Aged Worker Boost payments and combinations of those payment types. Once a total of five initial payment applications have been approved, no further initial payment applications can be accepted.
* Applications will open from 29 January 2018 and must be made online through QGrants.
If you have always wanted to take on a new employee, but money has held you back, the Back to Work initiative is a must for you!
For more information about the Back To Work – fill out the below form.
The Back to Work incentive is made available by the Queensland Government. Full T&Cs available here.
]