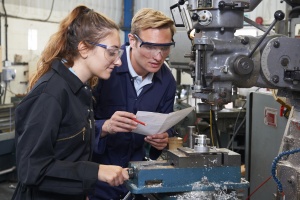 Queensland employers who hire apprentices and new trainees are set to benefit following an announcement by the Queensland Government in the budget announced on Tuesday.
In keeping with its election commitment, employers will receive a payroll tax rebate of 25 percent on their wages in addition to their wages being exempt from payroll tax up to 30 June 2018.
The rebate will be used as an offset against payroll tax payable on the wages of other employees, and will enable Queensland to continue developing a highly skilled workforce into the future.
The Queensland Government expects this incentive will result in an estimated $45 million in tax savings for businesses over the next three years.
BUSY At Work CEO, Paul Miles welcomed the new budget incentive which would ease the burden on businesses and make it easier for them to hire more apprentices and trainees.
"Payroll tax can be a direct disincentive to employment so it's great to see reform for employers of apprentices and new trainees to help train the next generation of Queenslanders."
"There are a lot of financial pressures on businesses in Queensland and this is an excellent initiative which can create more job opportunities especially for young people.
"A growing workforce is critical to the productivity and growth of the economy and the employment of apprentices and trainees would help address future labour shortages." Mr Miles said.
As an established and trusted not for profit organisation, BUSY At Work has played a key role in growing Australian Apprenticeships and employment in Queensland for the past 35 years.
BUSY At Work's comprehensive programs provide skilling, employment and education solutions to businesses, job seekers, students and apprentices. Profits are injected directly back into the local community with emphasis on job seekers including youth, people with a disability, Indigenous Australians and mature aged workers.
With over 600 qualifications to choose from, now could be the perfect time for many businesses to hire an apprentice or trainee to help them grow. To calculate your payroll tax click here.
end
MEDIA CONTACT: Leanne Macnamara, Public Relations Coordinator 0438 173 960 leanne.macnamara@busyatwork.com.au