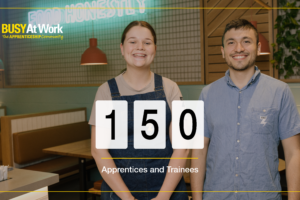 Employment provider BUSY At Work has today launched an ambitious program to combat youth unemployment on the Gold Coast that will take place between now and the end of 2018.
Federal Minister the Hon Karen Andrews MP was on hand to officially launch the GC150 – an expanded version of the successful GC101 that has operated for the two years previously – that aims to place 150 Gold Coast school leavers and young people into apprenticeships and traineeships with local businesses.
BUSY At Work Managing Director Paul Miles said that the program offered Gold Coast employers the opportunity to support a great initiative and to do their part to help young Gold Coasters get a foot in the door to paid employment.
"The GC101 has been such a success in the last two years that we've expanded the program to the GC150 in order to further combat youth unemployment on the Gold Coast," Mr Miles said.
"BUSY At Work is committed to getting 150 Gold Coast school leavers into work as apprentices or trainees between now and December 31 and we urge local businesses to get behind the scheme.
"Gold Coast employers who support the program will be doing their part for the local community as well as hiring an apprentice or trainee with the capability of making a positive contribution to their business.
"The program will provide participating employers with the necessary support to make hiring an apprentice or trainee as easy and efficient as possible."
Minister Andrews said that GC150 campaign is also a great way to promote the value of an apprenticeship as a pathway to a rewarding job and career.
"At this time of year, a lot of school leavers will be thinking about their future and I encourage them to look at how far an apprenticeship can take them," Minister Andrews said.
"Our research shows that over 90 per cent of people who complete a trade apprenticeship go straight into full time employment armed with skills that can set them up for the future.
"That's why the Coalition Government last year committed $1.5 billion over five years for the Skilling Australians Fund for projects that support businesses to hire apprentices and trainees," Minister Andrews said.
Employers can contact BUSY on 13 2879 or go to busyatwork.com.au/gc150