The latest apprentice and trainee data published for September 2017 quarter showed trade commencements were up 4.2% compared to September 2016 quarter.
The National Centre for Vocational Education Research (NCVER) report showed the biggest trade commencement increases in automotive and engineering (up 16.8%) and construction trades workers (up 5.5%).
This increase comes despite a 3.2% decline in trade commencements for the 12-month period ending 30 September 2017.
Managing Director, BUSY At Work Paul Miles said he was pleased Queensland was doing well, but said more needed to be done in Western Australia to improve commencements.
[two_third]"It's fantastic to see Queensland going so well with apprentice commencements up 6.3% as we know its tough out there for our small businesses.
"However, this is not the case in Western Australia where commencements are down a further 2.4% equating to just 19,505 apprentices during the same period.
"There are some great incentives available through our Federal and Queensland government to help businesses grow and create jobs and the Queensland Government's Back to Work program is an excellent example of this support.
Employment and Small Business Minister Shannon Fentiman said programs like Back to Work supported businesses to grow.
"Back to Work encourages employers to have the confidence to take on a new employee, creating more jobs for Queensland while supporting local businesses.
"This program has supported more than 4600 regional Queensland employers, and helped almost 10,000 unemployed regional Queenslanders get a job. The program has been a valuable contributor to the 152,400 jobs created since the Palaszczuk Government was elected."
"Trades are the backbone of the Australian economy and provide sustainable futures for our businesses and jobs for our youth.
"I urge the WA government to do more to support apprenticeship commencements," said Mr Miles.
[/two_third]
[one_third_last]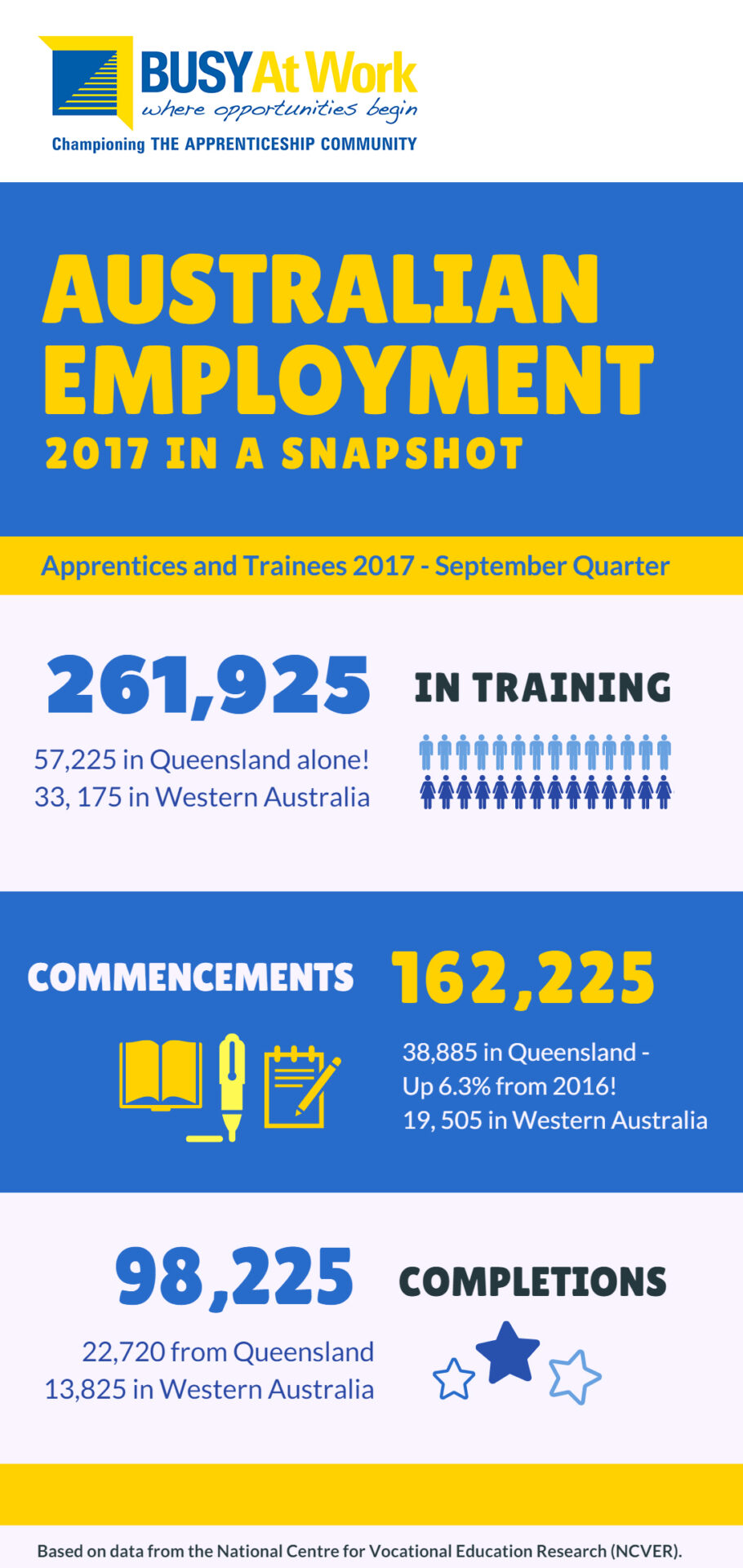 [/one_third_last]
BUSY At Work is an Australian Apprenticeship Network Provider offering free recruitment services for employers and career advice to job seekers. BUSY delivers the Australian Apprenticeship Support Network (AASN) in Queensland and in Western Australia under The Apprenticeship Community brand.
BUSY has over 40 offices throughout Queensland, Western Australia, Victoria and New South Wales.
For more information about Back to Work or Skilling Queensland for Work call on 13 28 79 or check out our website www.busyatwork.com.au
Further NCVER news:
Non-trade commencements decreased by 5.7% in the September 2017 quarter when compared with 2016, contributing to a total decrease in trade and non-trade commencements of 1.9%. The biggest declines in non-trade commencements were seen in sales assistants and salespersons (down 23.3%) and hospitality workers (down 17.4%).
End
MEDIA CONTACT: Leanne Macnamara, Public Relations Coordinator
0438 173 960 leanne.macnamara@busyatwork.com.au
Source
NCVER data report is produced on behalf of the Australian Government and state and territory governments, with funding provided through the Australian Government Department of Education and Training.
The report Australian vocational education and training statistics: Apprentices and trainees 2017 — September quarter.