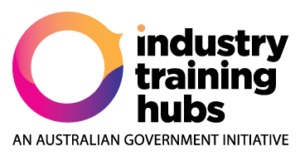 Skilled youth, Strong industry, Productive regions
Industry Training Hub for Wide Bay Region
The Industry Training Hub for the Wide Bay region is one of 10 regional hubs across Australia and is part of an Australian Government initiative to encourage young people to gain skills for industries that are employing locally. The aim is to improve opportunities for young people in regions with high youth unemployment, targeting Year 11 and Year 12 students.
How does it work?
Our Career Facilitator acts as a liaison point with the wider community including schools, industry employers and Vocational Education and Training providers. They work closely with school career advisors and other school representatives with the aim of supporting high school students to access training and other pathways that link to local employment.
These pathways may include Australian School Based Apprenticeships and Australian Apprenticeships.
They also work closely with local employers, industry representatives and Vocational Education and Training (VET) providers to understand the industry skills requirements for the region.
If you are:
a local employer;
a local industry representative;
a school Career Advisor or other school
representative; or
a Vocational Education and Training provider;
then our Industry Training Hub Career Facilitator would love to connect with you!
Together we can support our Wide Bay region by ensuring  industries have the skilled workforce for tomorrow and our young people have local career path opportunities.
Further Information
For further information contact the Industry Training Hub Career Facilitator:
Karen Seymour
Mobile: 0447 439 297
or Email: karen.seymour@busyatwork.com.au