There is no doubt Jarlan is a hard worker. A young First Nation's man, he has been earning a living as a labourer since the age of sixteen. With ambitions of his own, Jarlan knew he had to gain a qualification in the construction industry if he was ever to move ahead in his career.
Finally biting the bullet, Jarlan approached an old boss regarding apprenticeship opportunities who then referred him to Shane at Gray Tiling.  Gray Tiling is a Gold Coast based wall and floor tiling company that do a range of quality work for commercial buildings, shop fit outs, and residential housing.
Gray Tiling were looking for a first year apprentice so, with help from BUSY At Work (an Australian Apprenticeship Support Network provider), Jarlan was soon signed into a wall and floor tiling apprenticeship position.
Jarlan said, "Jai from BUSY At Work came out to sign me up with the paperwork and explained everything about the apprenticeship really well. I thought it was going to be way more complicated but he made it really easy to understand!
"I'm enjoying the work; the people here are a good bunch of fellas and I get along really well with them.
"Having worked as a labourer since I was 16, I got sick of it. I really want to become my own boss, work for myself and one day have my own crew."
With the construction industry currently experiencing skills shortages, apprenticeship pathway opportunities are in high demand. For young people and those looking to start a new career pathway in the industry, now is a great time to explore options through an apprenticeship. 
Find out more about BUSY At Work's apprenticeship support services.
You can also search for apprenticeship opportunities throughout Australia at www.apprenticeshipcentral.com.au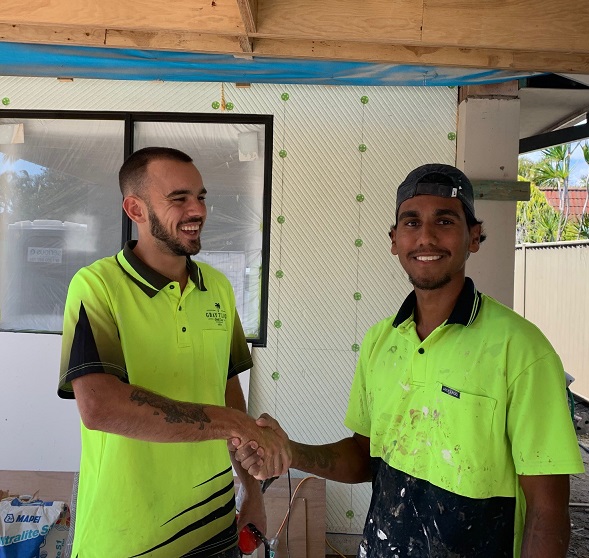 Coby from Gray Tiling with Jai who has commenced a tiling apprenticeship.