We did it! We banded together to increase youth employment on the Gold Coast and raise the profile of apprenticeships/traineeships as viable career options.
We exceeded all expectations by placing 111 school leavers in apprenticeships/traineeships and a further 193 school-based trainees and apprentices.
Want to talk to someone about growing your business too? Call 13 28 79, text 0421 268 884 or fill out this form.
Watch BUSY At Work CEO Paul Miles, the Assistant Minister for Vocational Education and Skills Karen Andrews and City of Gold Coast Apprentice Anika Fritz-Shanks announce the achievement.
Employers: Build your workforce through apprentices and trainees
Taking on an apprentice or trainee with the right qualifications allows you to meet industry requirements and fill current skill shortages in your business.
To help you employ an Australian Apprentice the Australian Government provides eligible businesses with financial incentives under the Australian Apprenticeships Incentive Program.
To take the hassle off you, BUSY At Work will guide you step-by-step through the entire process, from inducting your employee and signing the National Training Contract, to making sure you and your apprentice receive the financial incentives you are entitled to. BUSY can also put you in touch with a Registered Training Organisation who will deliver the training and ensure your apprentice gains the competencies required to complete their qualification.
Why build your workforce through apprenticeships and traineeships?
Grow your business
Increase your productivity
Reduce your staff turnover
Access FREE recruitment services
Access Government incentives
… and there's over 600 qualifications available!
School Leavers: Build your career through apprenticeships and traineeships
Through an Australian Apprenticeship, you'll develop the skills and experience required for your chosen occupation. When you've finished and are ready to complete, you'll receive a nationally recognised qualification.
Australian Apprenticeships are not just for traditional trades like plumbing and air-conditioning. Training is available in a wide range of career options. Australian Apprenticeships are available in more than 600 qualifications across Australia, including traditional trades as well as a diverse range of emerging careers – everything from rescue work, zoo-keeping, IT, fashion design, television, fitness, tourism, aviation and more. Your opportunities are endless.
With an apprenticeship or traineeship you will:
Get practical hands on training in an industry of your choice.
Find your edge in a competitive market.
Gain formal recognition of your skills and experience.
Have a stepping stone to higher education.
Receive paid work combined with structured training that can be on-the-job, off-the-job or a combination of both.
Choose your training provider with your employer.
Have the opportunity to finish sooner as it is competency based which means you can complete your training faster if you reach the required skill levels sooner than planned.
End up with a nationally recognised qualification.
Register now! We'll add you to our jobs board Apprenticeship Central. Once you login, complete the profile and most importantly select your Job Preferences or a specific job you're interested in. We can use your preferences to speak with employers to find a position for you.
Register on Apprenticeship Central
Our 2017 GC101 Ambassadors
Employed as part of BUSY At Work's 2016 GC101 Campaign, these school leavers are making a name for themselves in their chosen career!
Silvio DeVito
Von Bibra Motors
Elloyse Eldridge
Next International
Max Hall
Kurrawa Surf Club
Jasper Greinki
City of Gold Coast
Harry Brickles
Grand Motors Toyota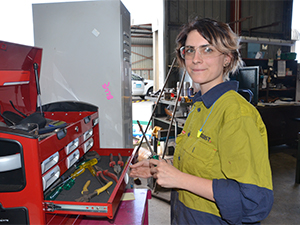 Anika Fritz-Shanks
City of Gold Coast
THE BUSY GROUP LTD trading as BUSY At Work is a service provider contracted by the Australian Government as represented by the Department of Education and Training to provide support services to prospective and current employers and Australian Apprentices. THE BUSY GROUP LTD is one of a number of Network Providers in Queensland and Western Australia. This website does not represent the Australian Government, if you wish to access information about the Australian Apprenticeships, from the Australian Government you should access the Australian Apprenticeships website.
Register as an applicant on Apprenticeship Central and we'll be in touch and Build your workforce through Apprenticeships and Traineeships.