With clients across Queensland's commercial, industrial and government sectors, Multhana offer cost-effective and efficient solutions, underpinned by seasoned project management and industry knowledge.
Joseph Wallace, current Director and Aboriginal descendent of the Jirrabal Rainforest people in the Atherton Tablelands and Juru people in Bowen, North Queensland, in partnership with CMBM Facility Services' Managing Director, Mark Hohn, and Director, Damien Cann, founded Multhana in 2017.
With commercial cleaning contracts for Brisbane City Council bus services and the Cross River Rail infrastructure project in Brisbane, and landscaping contracts at the University of Queensland and the Motorway upgrade from Caboolture to Steve Irwin Way, along with many private sector companies throughout Queensland, Multhana succeeds through the combination of CMBM's strong footprint in the building maintenance and facility services industry, together with Joseph's expertise in Indigenous employment and reconciliation in the Aboriginal community.
With assistance from Australian Apprenticeship Support provider BUSY At Work and Axiom College, Multhana recently signed up six of their supervising staff into traineeships, to complete a Certificate III in Cleaning Operations.
Odette Pihl, Training Manager at Multhana and CMBM stated, "We are striving to have a training culture within the business and the six new participants will be at the forefront of the program, supervising the next trainees.
"Having a formal qualification behind our supervisors really shows our customers and clients that we take our job very seriously and take pride in what we do. I love helping people who have been long term unemployed to gain a formal qualification that they can keep for the rest of their lives," Odette further stated.
The six supervisors at Multhana are eager to start their training so they can support the learning of their team members in the future.
One of the Supervisors undertaking the training, Teokotai Bob who started with Muthana 12 months ago when COVID-19 made its impact, said "I was sent the details of the job and was working the very next day. I now supervise seven staff at my depot. I like working with Brisbane City Council as they make me feel comfortable. Every day has been a learning process. Even 12 months in I'm still learning new things."
Garth Butler, Customer Service Manager who also started in March 2020 when COVID hit, now looks after seven bus depots across Brisbane and manages 70 staff. Garth said, "Having a qualification will not only be a reassurance that I know what I'm capable of, but will also enhance my knowledge. I hope to progress further within the company as there are always new opportunities arising."
"Before working for Multhana I was a full-time carer for my elderly mother for about eight years until she passed away a couple years ago. This left me unemployed and looking for work. It was really difficult to find work. I started off at Multhana as a sanitiser, sanitising buses during the pandemic lockdown, and then a month later I got asked to be a supervisor. Last September I was approached to become the team leader, before recently taking on a permanent position as the Customer Services Manager," Garth continued.
Paul Miles, Managing Director at BUSY At Work said, "Organisations like Multhana are leading the way in creating employment opportunities and bridging the gap for Indigenous people. BUSY At Work is proud to support Multhana through apprenticeship and traineeship services that contribute to a skilled workforce."
For more information on Multhana Property Services visit  https://www.multhana.com.au/
For more information on skilling up your staff, visit www.busyatwork.com.au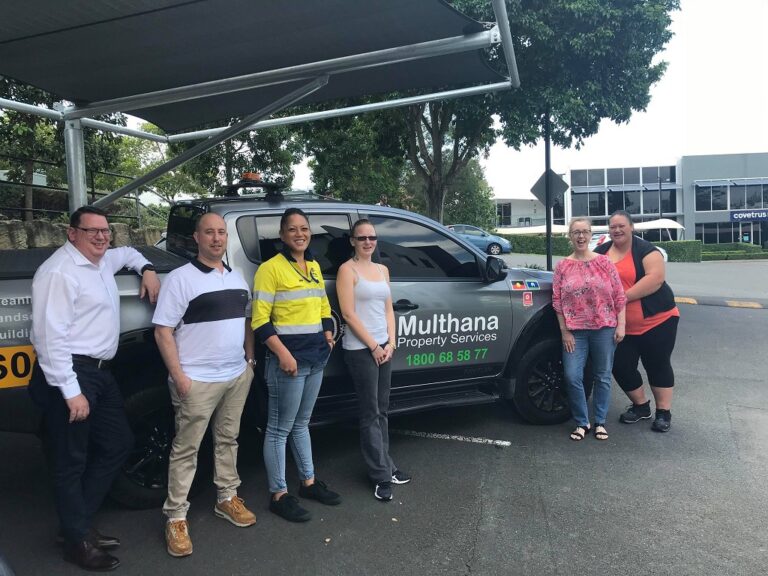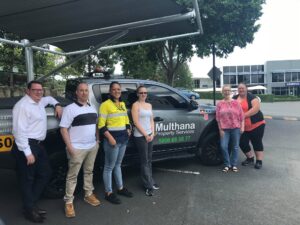 The six supervisors at Multhana Property Services are looking forward to undertaking a traineeship in Commercial Cleaning. From L-R Garth Butler, John Peran, Tanya Papatua, Tia Bakos, Patricia Ralston, and Teokotai Bob
MEDIA CONTACT:
Michelle Ryan, BUSY At Work
0407 169 029 or email michelle.ryan@busyatwork.com.au