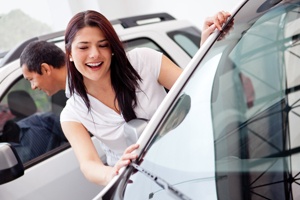 Shardae Gerrade was a participant of the Get BUSY For Work course in 2012 and has recently obtained a position as a receptionist at a business in Southport on the Gold Coast.
Shardae initially had her heart set on obtaining a panel beating apprenticeship as this has been a passion of hers for some time, however due to limited opportunities in this type of position she struggled to find employment. When Shardae commenced with BUSY At Work as part of the Get BUSY For Work pre-employment and training program, her confidence was diminished due to lack of finding a suitable job, however her outlook quickly turned around as a result of the course. Youth Project Officers assisted Shardae with her job search throughout the program and continued to support her after she graduated.
Finding work required Shardae to adjust her expectations and goals, and after applying for a range of positions she was successful in obtaining a job as a full time receptionist at A Grade Mechanical Services in Southport. This job will provide Shardae with valuable work experience along with a steady income and the job security that she longed for. The owner is working with Shardae to develop a career plan so that she can begin an apprenticeship in panel beating in the near future as this is her area of passion.
"Having this job keeps me occupied and gives me the independence I need to pay my bills and live a happier life. Being part of the mechanic industry is really exciting and should eventually lead to a panel beating apprenticeship" says Shardae.
BUSY At Work Youth Project Officer Rebecca Slavin-Molloy says "Shardae visited me at the Busy Beat Pre-Employment Hub and told me the exciting news that she is working full time. I'm so excited and happy for Shardae as she was really down about not being able to get into the panel beating industry and has now gained this position as another step closer to her dream job. Since leaving the course, Shardae's confidence, happiness and attitude towards work and life have improved dramatically" she says.
BUSY At Work Community Services runs a pre-employment and training program on the Gold Coast called R U BUSY? which is a twelve week program that aims to create a transition for disengaged young people between the age of 17 and 19 years to obtain employment, return to school or continue with other education or training.
To find out more about this program please call the Busy Beat pre-employment and training hub in Southport on 07 5528 3816.