Data from the Department of Employment, Small Business and Training shows there has been a 19% increase in female enrolments for trade courses in the automotive industry and a whopping 32% increase in engineering pathways.
A recent Diesel Automotive course funded by the Queensland Government's Skilling Queenslanders for Work program and delivered by BUSY At Work in partnership with TAFE Bundamba campus, saw a full class of women learning diesel mechanics for the transport industry.
The course provided a Certificate II in Automotive Pathways and a work experience component with local employers, including Brisbane City Council who took on 50% of the recent graduates.
Synthany Watt said "The course taught me the language for the industry, the tools of the trade and has given me confidence as I completed each stage of the assessments. As a result, I have been doing some work experience with a local employer and they have now offered me an apprenticeship with them in auto mechanics".
All the recent graduates have different aspirations from the course, some wanting to go onto marine or heavy machinery mechanics and some considering relocating to areas like regional western Queensland.
Zoe O'Neill will be undertaking work experience with Brisbane City Council next week and stated "My goal is to move west of Roma in Queensland and pursue a heavy diesel machinery apprenticeship, working with tractors and trucks".
Paul Miles, Managing Director for the BUSY Group stated "With the push for more skills in the trades industry, it is great to see women pursuing these career pathways also. The Skilling Queenslanders for Work initiative gives jobseekers an opportunity to explore these pathways".
"Many people have had time to rethink their career and trades is a great option, particularly being able to earn while you learn through an apprenticeship or traineeship pathway", he further stated.
For more information on the Skilling Queenslanders for Work initiative and all upcoming courses which are delivered at no cost to eligible jobseekers, visit the BUSY At Work website.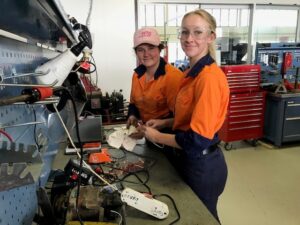 Synthany Watt (front) and Zoe O'Neill (back) are both pursuing careers in mechanics, thanks to a recent Skilling Queenslanders for Work program for women wanting to enter the transport and automotive industry.