As one of the most successful motor dealerships in South East Queensland, Sunshine Automotive on the Gold Coast knows the value of employing apprentices and what they can bring to a business.
The Southport based business, which is part of the Peter Warren family of automotive dealerships (including Ford, Kia, Renault, Volvo and Aston Martin), is continuing to grow and provide secure job futures for its expanding workforce.
BUSY At Work Industry Training Consultant, Darrin Larney said BUSY had built a strong working relationship with Sunshine Automotive during the past 12 years.
"We have been working with Sunshine Automotive since 2005 in supporting apprentices and providing tailored services for all their apprenticeship and recruitment needs.
"This support has included providing them with relevant information about Australian Apprenticeships and Government Incentive Programs available through our Australian Apprenticeship Support Network (AASN)," Mr Larney said.
Group Services Manager and Renault Dealer Principal, Kevin Schofield said the company had worked hard to develop apprentices and create a dynamic multi skilled workforce.
"We are a growing company with around 120 staff here on the coast. With about 10% of our staff being apprentices our goal is to create a highly trained and committed workforce capable of undertaking a broad variety of tasks in the automotive industry."
"After completing their Certificate IV in Automotive Technology we also put many of our tradesmen through an auto electrical apprenticeship to further develop their skills in the trade," Mr Schofield said.
A passionate supporter of youth, Kevin said it was great to see young people develop and grow in the automotive industry.
"It's important to attract the right people to our industry and many of our apprentices have not only become good at their work but are now also making a difference in society as a whole."
"We have a good consultation process and we are proud that many of our employees have gone on to successful careers in the industry," Mr Schofield added.
One staff member who understands the changing face of the motor industry is Mat Stone who has worked with the company for the past 23 years.
Having started as a first year apprentice Mat has been able to progress through multiple roles as a technician, workshop controller, workshop foreman and assistant service manager.
"When I first started there was a lot more guys in the workshop and not a lot of opportunity to progress beyond being a motor mechanic. Working in a large company like Sunshine Automotive, I have been able to progress my career more into a business management role."
"There are now genuine career paths for young people wanting to make a career in the automotive industry. As the demand for automotive technology services increase, new careers are opening up which combine both technical knowledge and management skills."
"Not only can you get good qualifications but there is so much room to grow and expand your learning," Mr Stone said.
A keen car enthusiast, mature aged second year apprentice Ricky Pullen is hoping to become a master technician for Ford one day. Ricky said taking up an automotive apprenticeship was the best decision he had made in his eighteen year work career.
"Previously I'd worked in hotels and with commercial car companies. I've got my own bay in the workshop here and I'm getting to do a lot of the hands on maintenance and servicing which I like."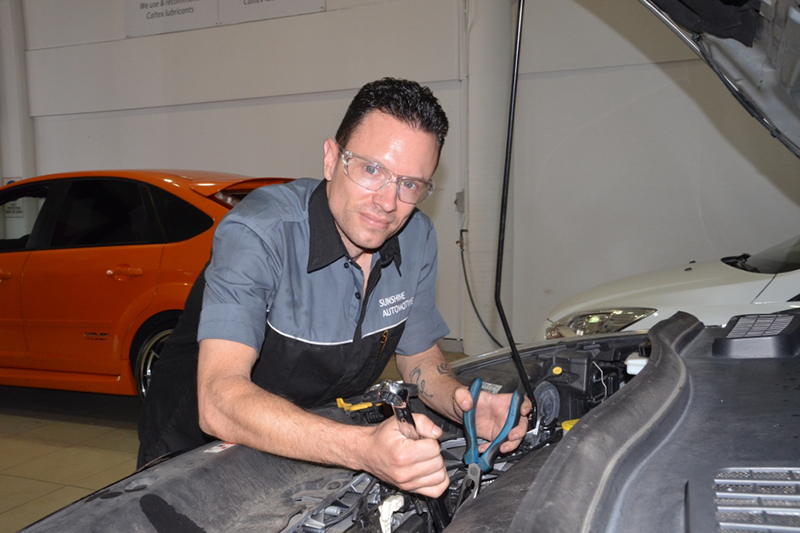 "To anyone thinking about working in the automotive trade I would say it is important to have a keen interest in cars and you've got to be willing to work and get dirty."
"It's not for everyone but there's a lot to learn and it's something I'm passionate about," Mr Pullen said.
Former Redmount College student (Yatala) and first year apprentice Jonathan Wingray said doing work experience was a great way to gain some insight into the automotive industry.
"While at school I was able complete a Certificate II in Automotive Technology and get about 300 hours of work experience under my belt. I'd also worked at another dealership so I knew what to expect when I started my trade."
"I've always enjoyed working on cars and going to car meets to get information on vehicles. Being a motor mechanic is my dream job and the tradesmen here are always willing to pass on their skills and knowledge to help you learn as much as you can," Mr Wingray said.
BUSY At Work, CEO Paul Miles said that BUSY was pleased to partner with Sunshine Automotive in helping to train apprentices and supporting young local people in gaining a start in the automotive industry.
"BUSY At Work is committed to playing a key role in growing Australian apprenticeships. We are delighted that Sunshine Automotive continues to develop apprentices and provide a wealth of new skilled workers not only within the company but for the industry as a whole, "Mr Miles said.
End
MEDIA CONTACT: Leanne Macnamara, Public Relations Coordinator
0438 173 960 | leanne.macnamara@busyatwork.com.au