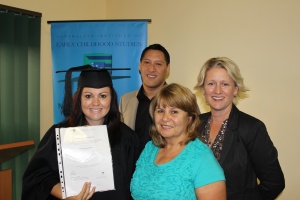 When Tamara McCormack left the familiar surrounds of Stanthorpe searching for work, she had no idea she was about to embark on a course that would not only take her back closer to home but also land her the job of her dreams.
Tamara, along with 10 other students recently completed an Australian Apprenticeship Access Program at Shailer Park, an employment preparation program aimed for those interested in a career in the child care industry.
The seven week course including five days' work experience placement provides nationally recognised pre-vocational training, support and assistance for any vulnerable job seekers who experience barriers to entering skilled employment.
The Australian Apprenticeship program is funded by the Australian Government. The Access Program is supported through Queensland's longest serving Apprenticeships Centre, BUSY At Work.
BUSY At Work Regional Manager for Brisbane Metro, Fiona Woodhouse said that there were some real advantages to the program.
"Child care has great potential in career prospects because it is an industry where there will always be job openings and chances for career advancement."
"The program is a fun interactive course focusing on employability skills including time management, problem solving, employers' expectations, self-awareness and self-promotion."
While still undergoing the program and using the self-promotion booklet provided by BUSY, Tamara put the skills she had learned to work by updating her resume and cover letter. She then set her sights at cold calling various child care centres.
"I'm a strong believer in self-promotion and the course gave me the skills and understanding to best promote myself. When I was fortunate enough to gain an interview, I did my homework. I saw that A Country Garden uses the Montessori program, so I did my research to ensure I had an understanding of the program. Now after a successful interview I've secured a traineeship of my dream career." Miss McCormack said.
The Access Program incorporated three child care competencies from the 12 units required for Certificate III in Early Childhood Education and Care. To ensure the quality of the training, BUSY At Work engaged the Australian Institute of Early Childhood Studies.
"We hope that Tamara's success will be the first of many from our program participants. She was an active and reliable participant in the course with a genuine desire to work in the child care environment," Ms Woodhouse said.
"Her positive attitude and confidence obviously placed her in an excellent position as she will start her traineeship with A Country Garden Early Child Care Centre at Warwick, on the 24 March.
"The program is now in its next phase where we assist with job search and help find placements for our remaining students."
"Her positive attitude and confidence obviously placed her in an excellent position as she will start her traineeship with A Country Garden Early Child Care Centre at Warwick, on the 24 March.
BUSY At Work Industry Training Consultant for the Southern Downs region, Donna Howard said she was very pleased to be signing up another trainee in the region.
"Apprenticeships and Traineeships provide real, quantifiable advantages to businesses, individuals and our local economy."
"Businesses throughout our region are increasingly appreciating the enormous benefits that apprenticeships generate, in terms of developing a highly skilled workforce and by boosting productivity and staff retention which is why businesses like A Country Garden choose to take on Trainees.
"Likewise, while the business benefits, so does the employee. In Tamara's case she can earn while she learns while having the security of a traineeship and qualify in the career of her dreams – it really is a win win situation." Mrs Howard said.
For further information on Apprenticeships and Traineeships visit www.busyatwork.com.au or phone 13 BUSY (13 2879).
Image Caption: left to right: Tamara McCormack proudly displays her graduation certificate, pictured with BUSY At Work's Mentor Officer, Bevan Repia, Indigenous Consultant, Robyn Donnelly and Regional Manager for Business Relations, Fiona Woodhouse.
About BUSY At Work
BUSY At Work is a not for profit organisation providing apprenticeship, employment and community programs. With over 36 years of experience we have established various programs across Australia with offices throughout Queensland, Victoria, Canberra, Newcastle and Perth.
MEDIA CONTACT
Leanne de Toerkenczy
E: marketing@busyatwork.com.au
M: 0438 173 960 | P: (07) 5585 4403