Beddown (a brand of inCommunity Inc) is a Brisbane region charity organisation that works with local government and other organisations to source spaces (including abandoned buildings, car parks etc) that are left empty at night and repurpose them into pop-up accommodation. Their aim is to provide safe, secure, and comfortable shelter for those who are homeless. The charity also collaborates with other organisations to provide services for the homeless which can help them into work, and access health services.
The BUSY Group is a proud supporter of Beddown, and has assisted many of their clients to find employment, and has also provided substantial donations over the past few years. Recently, The BUSY Group presented two $47,000 cheques (totalling $94,000), the largest donation that Beddown has ever received. The donation supports the organisation's Change47 campaign, an awareness campaign for Beddown that shockingly highlights the average mortality age of a person living on the street is just 47, and will also contribute towards Beddown activating and operating their homeless women's shelter in Ipswich.
Previous research by Homelessness Australia highlights that people with disabilities in Australia are at greater risk of homelessness than the general population, with the highest risk groups being people with psychological, intellectual and mental health disability, as well as those with difficulties in schooling and employment. 
Stacey Turnbull, CEO of BUSY Ability, a part of The BUSY Group, stated, "It is incredibly hard to find employment when you are homeless. With no fixed address, along with being in a state of constant survival, without help many find it extremely hard to climb out of that situation. We work with individuals to provide access to health support and employment. We're extremely proud to provide support to amazing organisations like Beddown, assisting individuals to find security with a safe bed and access to other supports to help them get back on their feet."
Norm McGillivray, founder of Beddown, stated, "Beddown is all about changing and saving people's lives, which all starts with a safe place to get a good night's sleep. So, connecting that into Change47, the campaign runs for 47 days (it started on May 15), all the way through to June 30th, with a very ambitious target of raising $4.7 million. This will allow us to activate six sites across Queensland that look towards changing that statistic.
"Car parks is where we made our name but there are so many vacant buildings and structures all around Queensland and Australia that can be activated for good. Also, Beddown collaborates with many different service providers, of which BUSY Ability is one of those. Providing our guests pathways into longer term solutions, such as education, training, employment, accommodation, and rehabilitation – that's what we are about.
"This is the largest donation we've ever received since I founded the organisation, we've been going for nearly five years this year. It's going to make a massive impact and will go towards our first female-only venue here in Ipswich. The site is an old restaurant that we are going to convert part of the space into accommodation and support for twelve vulnerable women at a time. The site needs a lot of work, but we've received the approval now from Council to move the project forward so that funding we've received is going to change the lives of our female guests that we are going to help."
With females aged over 50 (although Norm believes this is now more like 45) being the fastest growing demographic of homeless people in Australia, the shelter is a much-needed service for the region.
For more information regarding Beddown, you can follow them on Facebook or you can find out more about the Change47 campaign.
You can also find out more about BUSY Ability and their employment support services for ex-offenders and those with a past conviction, and for persons living with a disability.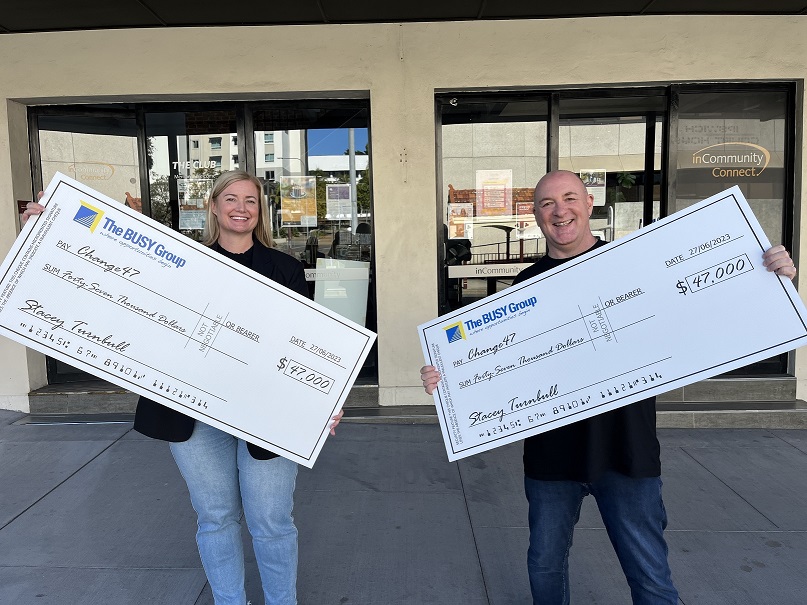 Stacey Turnbull (CEO of BUSY Ability, on behalf of The BUSY Group) with Norm McGillivray, founder and General Manager of Beddown and the Change47 campaign. The total donation of $94,000 will go towards converting a prior restaurant building into a much-needed women's shelter for Ipswich.