White's IGA lead the way when it comes to providing apprenticeship and traineeship opportunities for young people to launch their careers! They were recently awarded the North Coast region's 'Large Employer of the Year' award for the Queensland Training Awards. They then progressed to the QTA's State Final held on the 9th September, and took out the State award!
A family-owned supermarket with six stores across the Sunshine Coast, White's IGA has been in the region for decades, celebrating 30 years of operation this year. The independently owned and operated stores are designed to cater to the unique needs of the community with a focus on 'fresh and local'. 
Prioritising training for their approximately 500 staff, the company has helped develop a training platform, IGA Training Academy, that now supports more than 1,400 IGA stores across Australia, engaging with local schools to attract new team members and supporting their employees with apprenticeship and traineeship pathways. White's IGA was instrumental in assisting with the rollout of the platform which provides a comprehensive range of courses delivered to staff from new employees up to senior leaders in the business.
Ethan Fox, People & Culture Coordinator for White's IGA, said, "Winning the Queensland North Coast Training Awards has helped shine a spotlight on the amazing work our support team has done to provide essential training standards in our stores. Over the years, we have rolled out numerous programs and initiatives to help our staff with their professional and personal development such as online training, external courses and training plans.
"Skills training has a direct impact on our people's productivity and performance as well as employee satisfaction and retention. White's IGA strives to give our staff the tools and resources to help better understand their responsibilities so they can really excel in their role as well as making them feel valued and fulfilled. White's IGA has also rolled out a number of training courses that enhance our customer service for our customers, including mental health awareness, disability awareness and dementia training.
Continuing skills development and staffing for the retail sector is challenging but through the IGA Training Academy and support from Australian Apprenticeship Support Network providers such as BUSY At Work, White's IGA are supporting a range of skills and career development for young Sunshine Coast locals.
"BUSY at Work has been our primary Australian Apprenticeship Support Network since 2020. Our apprentice butchers at our Forest Glen and Baringa stores have used BUSY at Work as their first point of contact for all queries about their apprenticeships from pre-commencement through to completion. BUSY at Work provides White's IGA with universal services such as essential administrative support, payment processing and regular contact."
First year apprentice Dalton, who works at their Forest Glen store says the best thing about gaining his qualification while working at the White's IGA store is, "My Manager Kevin, and others I work with are great and so are the flexible working arrangements."
As a third-year apprentice with White's IGA, Slater is on the home stretch to completing his apprenticeship, undertaking a butcher qualification at their Baringa store. He agrees with Dalton about the friendly staff and support he gets, saying, "The best part about working at White's IGA is the friendliness and support of my Store Manager, Meat Manager, and other butchers. The apprenticeship has given me a stepping stone towards a fulfilling career while offering the advantage of earning money."
BUSY At Work's General Manager for Australian Apprenticeship Support Network, Cassandra Horan, stated "White's IGA are an excellent example of how business can support their staffing and skills development needs while offering young people a career start through apprenticeship pathways. This in turn benefits whole communities, both economically and socially. They are well-deserving winners for the QTA's Large Employer of the Year award!"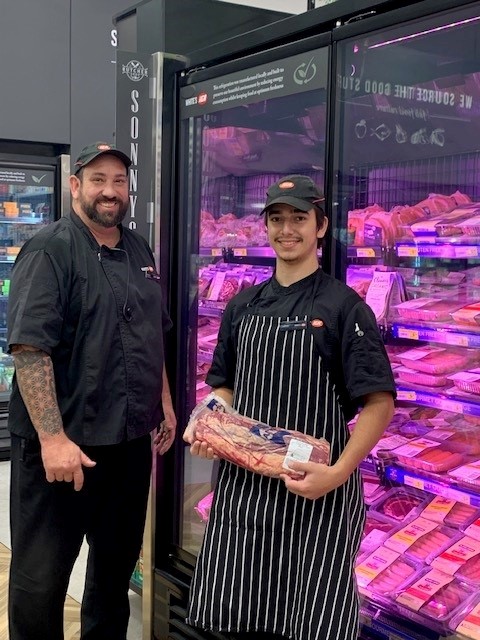 Kevin Johnston (Meat Manager from White's IGA Forest Glen store) with Dalton who is in his first year as an apprentice butcher.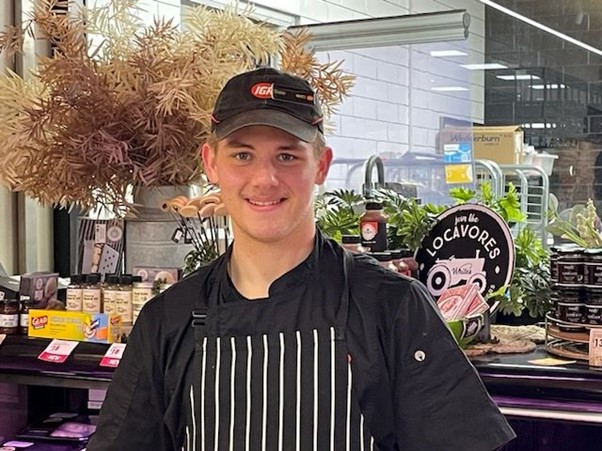 Slater is in his third year as an apprentice butcher with White's IGA at their Baringa store.