At 34 years of age, Lauren has tried a few career paths including sales, visual merchandising, automotive industry, and even starting a number of university degrees, but nothing really stuck.
Although it wasn't something she was intentionally pursuing, Lauren fell into a 'trade' pathway in carpentry, undertaking an apprenticeship.
It wasn't long before Lauren realised this was the career choice for her. Being artistic, Lauren realised that learning a trade allowed her to explore her creativity.
Lauren recently switched from a carpentry apprenticeship to cabinet making, which she felt was more her style, restarting her apprenticeship with a new employer, Germancraft, who offer a full-service design, selection, manufacture and install business. The company creates bespoke or classic family home kitchens, bathrooms, alfresco areas, walk-in robes, laundries, entertainment units and all other cabinetry solutions.
Of her new role, Lauren stated, "I am part of a great team and have some very patient teachers! Our factory has a diverse mix of experienced tradesmen and apprentices. We all work together on projects, the more experienced tradesmen guide and teach as the jobs progress. It beats any desk job… it doesn't even compare. There's something truly rewarding about honing a manual skill you can use to create with. I think my favourite thing is knowing every day I will learn something new. And every day I feel more confident in what I have learned so far.
"I am now inspired to do what I can to up-skill for better opportunity and success in my career. It's only taken 34 years!"
When asked what some of the challenges can be for a female working in a traditionally male trade, Lauren further stated, "It isn't for everyone, I take my hat off to younger females that take on a trade. It isn't easy and you need a thick skin, walking into a male dominated industry. For the most it has been a positive experience, you quite quickly forget about being a minority. It helps to be embraced as an equal, and not to let anyone lift things for you if you can help it. It sounds silly but you won't learn or become confident if you rely on others to do aspects of your job."
The BUSY Sisters is a national program that supports women who have entered or are looking to enter a traditionally male-dominated trade and has created a national network of like-minded, trailblazing women. Lauren is part of the program and spoke with her BUSY Sisters mentor after resigning from her previous employment situation but knowing she still wanted to pursue a trade. Not an easy feat for a mature-aged female looking to enter a non-traditional trade apprenticeship! 
"I resigned and began looking to continue my Apprenticeship and really struggled to find employment. I was pretty determined on finding something but nearly gave up looking after a lot of knock backs, that's if I managed to secure an interview! 
"I'm really grateful to be a part of the BUSY Sisters network because with the help of the program, and my mentor, Billie, I was lucky to interview with a cabinetry company and got the job! So, I am two weeks into my first year of a Cabinetry Apprenticeship (4 year Apprenticeship), and am loving every day!"
Lauren will continue to receive support from Billie, her mentor at BUSY Sisters, for up to 6 months.
Tenille Reilly, Women in Trades Manager at BUSY At Work stated, "Through online communities, workshop events, and the mentoring itself, the BUSY Sisters program provides a much-needed sisterhood who support and encourage each other!
"The BUSY Group were able to holistically support Lauren through the BUSY Sisters program, BUSY At Work signed her into the apprenticeship, and she is undertaking the cabinet-making qualification through Skill360, one of our Registered Training Organisations who specialise in training for the construction trades – so it was a real group effort!"
When Lauren was asked what she would say to other women looking to enter a male-dominated trade career, she stated, "Get it Guurl! We need to start working on gender diversity across our industries, I know it's a very 'bigger picture' point of encouragement, but I am very motivated by innovation and industry growth.
"Personally, I was blown away by some really cool statistics to do with gender diversity in the workplace and think if you're considering a male dominant trade, this is a damn good reason to get amongst it; companies with above average gender diversity produce greater innovation and revenue, 45% more than below average companies. Diverse teams are 70% more likely to capture new markets than others that aren't diverse, and globally it is proven that gender diversity grows productivity, and industry innovation. I'm all about being a part of that, and hopefully my little research piece will motivate other females to do the same!"
We couldn't have said it better ourselves!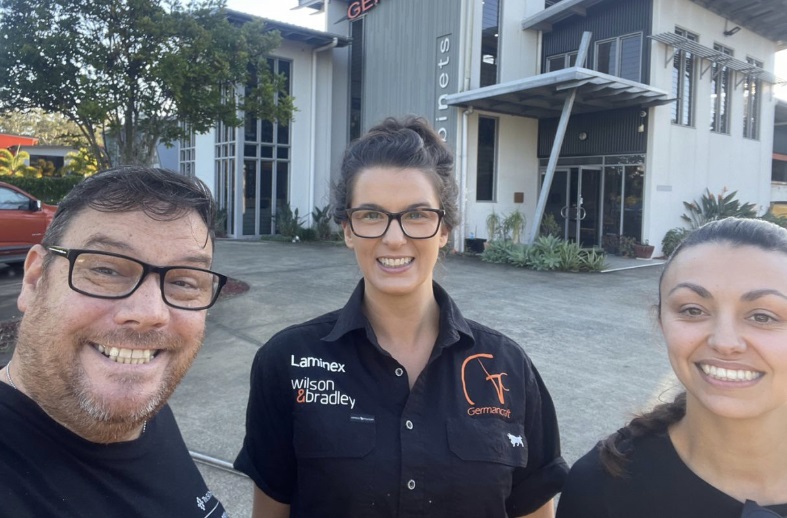 Stephen Logan from Skill360, Lauren, and Billie-Jo, Lauren's BUSY Sisters mentor.
Find out more about BUSY At Work's support for women entering a non-traditional trade.
Find out more about Skill360 and accredited training for construction.