Thanks to a Skilling Queenslanders for Work program offering an 18-week paid traineeship at the Wacol RSPCA, eleven young participants are now prepared for the workforce, having learnt valuable skills in business administration and hospitality. Two participants, Blade and Gabby, impressed the café managers so much that they are now employed by the RSPCA Black Cat Café.
Before coming to the course, many of the participants, including Gabby and Blade, had limited work experience. Like many young people, getting that first foot in the door to gain the experience and work references that employers are looking for, can be a challenge.
Skilling Queenslanders for Work offers free short courses and real work experience in workplaces or on work projects, offering skills for industry that range from retail, hospitality, business administration, trades, hairdressing /barbering – to community services and more. Participants in the courses are those who have entry barriers to employment including young people, Aboriginal and Torres Strait Islanders, people living with disability, women re-entering the workforce, ex-ADF, and the long term unemployed.
Blade, who had left school in 2021 and had only done a few months cleaning work before coming to the course, said, "My cousin had done the course previously and he ended up getting work from it, so he recommended it to me. I jumped on the same course, and I ended up getting a job too!
"It was a great experience. I loved meeting people in the course, everyone was really lovely, and the work was really great, it was stressful at times but the support was good.
"I absolutely love my job at the café! My co-workers have become really good friends and work has been really great so far. I'm doing three or four days per week."
Find out more about Skilling Queenslanders for Work courses delivered by BUSY At Work.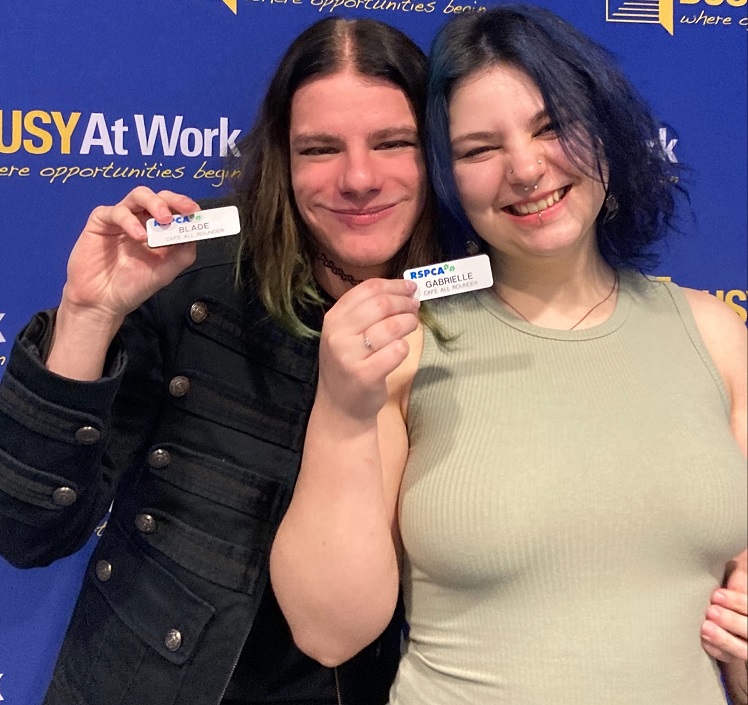 Blade and Gabby are now working thanks to a Skilling Queenslanders for Work course at the RSPCA at Wacol.