Casey is a proud First Nation's man whose ancestry is from the Mithaka country in the outback Windorah region of South-West Queensland. Living in Toowoomba, after completing school and finishing Year 12, he was really struggling to find a career path.
Unsure of what he wanted to do; Casey turned to his father who works in the employment services sector in the region. His father suggested that Casey do an apprenticeship because the opportunity to earn while learning on the job and gaining a qualification, would give him a trade that he could always turn to throughout his life.
Casey's father recommended he connect with BUSY At Work, an Australian Apprenticeship Support Network (AASN) provider, to help him find a local apprenticeship opportunity. Casey was initially considering a career in plastering but changed his mind after speaking with BUSY At Work and a friend in the painting and decorating trade, deciding this suited him better as he was someone who enjoyed being creative. BUSY At Work signed Casey into an apprenticeship with Darren Bailey Painting & Decorating.
"My mate is a painter and decorator, and I would watch his videos on social media. I always thought painting was very interesting, so I decided to give it a go.
"In the beginning of my apprenticeship I had doubts as to whether I could do it. I also had some challenges with anger, but I have a good boss and he reined me in. If it wasn't for him, I probably wouldn't be here! Also, Alan (from BUSY), is a really nice bloke and he always chatted to me to see how I was going."
Darren Bailey, business owner and employer of Casey, is no stranger to mentoring apprentices and regularly employs young apprentices wanting to enter the trade, helping to skill the next generation for the industry.
Now that Casey has completed his apprenticeship, Darren is relying on Casey to train the upcoming apprentices in his business, passing the baton on!
"I've been self-employed for nearly 40 years and started my company in 2008. When I did my apprenticeship, I graduated with double honours and finished early. My skill level was really high, so I wanted to give some of this back. I really enjoy training and watching kids develop and progress, to nurture an apprentice from scratch so they come up to my standard and trained how I want them. I've had a fair few apprentices in my time and a lot of them have gone on to start their own business.
"Over the years, Casey has come next level! We had a rocky road though in the beginning, a bit of to-and-fro'ing and we had him walk off the job a few times.
"He's just starting to become a leader which I try to influence kids because it's now their turn to pick up the few apprentices we have here now, to start to teach them what I taught them. He's settled in now, he should be pretty good and he probably clicks with the next generation better too. There's another indigenous apprentice about to be signed up and I reckon Casey will be a good role model for them."
As well as mentoring others, Casey is keen to continue learning the trade saying, "I'd like to learn more about the other aspects of painting, go a bit deeper into it.
"For anyone wanting to start an apprenticeship, I'd say give it a go. The three or four years goes quick so try and learn as much as you can. Also, have fun, get along with everyone at the same time. Try to soak everything up!"
To acknowledge Casey's successful completion, even when faced with some heavy challenges, BUSY At Work hosted a celebration which involved BUSY staff members, Elders from Casey's First Nation mob, his employer Darren, Casey's parents, and Scott Christ, the Principal Program Officer  – Darling Downs South-West Region – Apprenticeship & Traineeship Regulation Team (DYJESBT). Along with his qualification completion certificate, Casey was also issued a Certificate of Resilience and his employer was issued a Certificate of Excellence to acknowledge the support provided to Casey during his apprenticeship.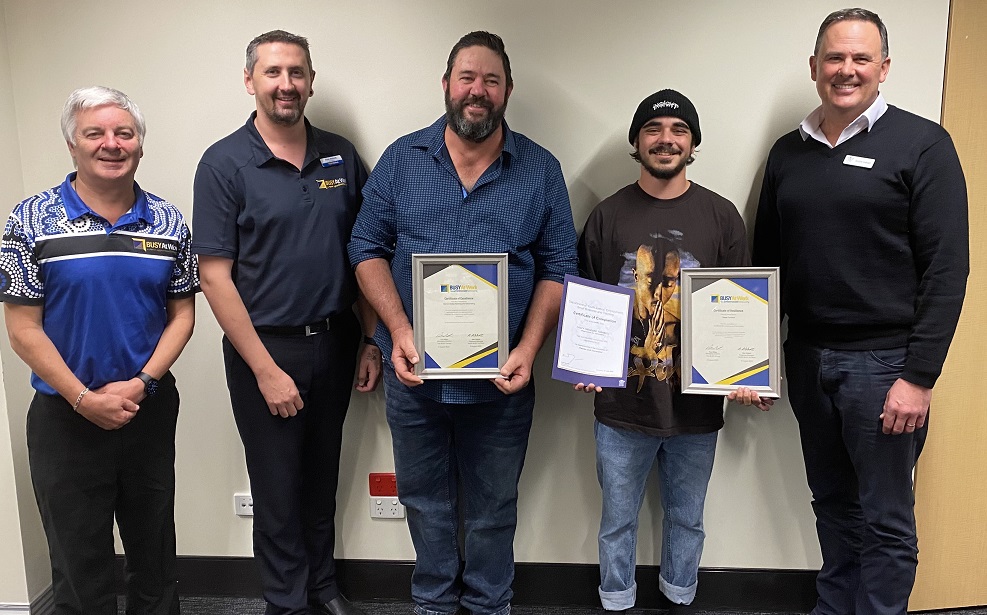 From L – R: Alan Richardson (Apprenticeship Field Officer) and Alan Abbott (Regional Manager AASN) from BUSY At Work, with Darren Bailey (Employer & Owner of Darren Bailey Painting & Decorating), Casey Turnbull who just completed his apprenticeship, and Scott Christ (Principal Program Officer  – Darling Downs South-West Region – Apprenticeship & Traineeship Regulation Team, DYJESBT).