Today BUSY At Work (Australian Apprenticeship Services provider) and Axiom College (the Registered Training Organisation delivering the qualification) signed up three key team members to undertake a Certificate III in Cleaning Operations, with the plan that these core team members will become specialist trainers for the industry, employing staff within the business and in the industry.
A further six team members at CMBM in other sites throughout Queensland; including Sunshine Coast, Townsville, Mackay and Toowoomba will also be undertaking the qualification and were signed up via a remote session later in the day.
CMBM, who deliver facility management services including commercial and industrial cleaning, as well as landscaping and building project services, are positioning themselves to become industry leaders in the cleaning operations space by developing and providing qualified staff who have acquired their skills within a professional facilities management environment.
The company is also the capability partner for the indigenous business, Multhana Property Services, who was recently successful in securing the cleaning operations contract on the Cross River Rail project, and have an agreement with them to provide training and create more employment opportunities for indigenous job seekers in Queensland.
Paul Miles, Managing Director of BUSY At Work said "BUSY At Work is proud to support CMBM to ultimately develop skills and employment opportunities for Queenslanders, particularly the focus on supporting indigenous community members into careers, and congratulate CMBM on this industry leadership initiative".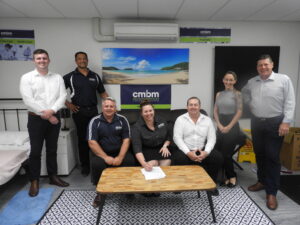 The three CMBM employees who have just signed their traineeship agreement through BUSY At Work and Axiom College who are the training provider for the qualification.  From L to R: Alex Smith from Axiom College, Shane Rawnsley – Client Services Manager at CMBM and newly signed trainee, Ian Gardiner – WHSE Manager at CMBM, Odette Pihl – Training Manager at CMBM and newly signed trainee, Damien Cann – Director of CMBM, Rebecca Dorrington – BUSY At Work Apprenticeship Field Officer and Wally Fullerton-Smith –  Business Development Manager at CMBM and newly signed trainee.
For more information regarding CMBM visit https://cmbm.com.au/
For more information on BUSY At Work Apprenticeship Support Network Services visit www.busyatwork.com.au or call 13 28 79