Based in Doonan on the beautiful Sunshine Coast, ePlants Nursery is leading the way in skills development for young people in the region. The wholesale nursery, set on 25 acres, has been a long-term advocate for traineeships and apprenticeships, hosting a School-Based Horticulture and Apprenticeship Training program. The nursery is an exemplar employer that offers a safe and nurturing environment for young people to learn and grow their careers in the horticulture industry.
It is no surprise then that the wholesale nursery won the award in their region and was a State finalist for the Queensland Training Awards, under the Small Employer of the Year category.
BUSY At Work, an Australian Apprenticeship Support Network provider has been supporting ePlants Nursery with their apprentice and trainee needs for some time. Over the years, BUSY has signed up school-based apprentices and trainees, as well as school leavers looking to enter the horticulture industry.
Ali Pilling, Director at the nursery stated, "Apprentices and trainees are of utmost importance to our business! Australia's current predicament of 'staggering' skills shortages, as revealed by the recent report from the National Skills Commission, where occupation shortages doubled in 2022, underscores the pressing need for skilled individuals in the workforce. This situation makes the role of apprenticeships and traineeships even more critical."
Bayley is a 21-year-old employee with ePlants who began as a school-based horticulture trainee. After successfully completing high school in year 12, Bayley made a conscious effort to enhance his skill set and transitioned to a full-time apprentice in nursery operations. Bayley's affinity for plants, together with his commitment to the environment and soil, flourished as he advanced through his training modules.
After completing his three-year apprenticeship in nursery operations, Bayley undertook further trade qualifications in Parks and Gardens, as well as Landscape and Construction. With a keen interest in training, Bayley's ambitions know no boundaries. He has now embarked on a journey to become a qualified trainer, aiming to broaden his career prospects—training both adults and youth within the nursery environment industry. Bayley dedicates time to conducting workshops on pest, disease and soil health on Saturday mornings at the nursery. His teaching style is described as patient and engaging by participants and his diligence and work ethic is leading the way for other young apprentices and trainees at the nursery.
Siena is another young success story. Siena's journey with ePlants began at the young age of 15 when she joined as a school-based horticultural trainee. Demonstrating her enthusiasm for learning and her passion for plants, she not only completed her Certificate II in Horticulture but also achieved this milestone while graduating from high school.
Impressed by Siena's genuine love for plants and dedication to the team, ePlants offered her a full-time position. Now 21, Siena is immersed in a comprehensive three-year Apprenticeship in 'Nursery Operations', where she manages the bustling ePlants Trade Centre and leads a team that includes members older than herself. Siena's commitment to growth is not limited to her own journey. She takes on the responsibility of training and guiding others, including mentoring part-time, school-based trainees.
Beyond her contributions to the team, Siena also extends her influence within her community. She engages with 'Skilling Queenslanders for Work (SQW)', providing orientation and insights during their initial visits to the nursery, showcasing her ability to professionally represent ePlants. Her keen interest in training, has fuelled her ambition to become a qualified trainer, aiming to broaden her career prospects to training others within the nursery environment industry.
Ali further stated, "We have a particular commitment to up skilling youth—our future generations. Over my three decades of experience, I've witnessed the enthusiasm and thirst for learning displayed by those who genuinely embrace our training offerings in nursery, plants, horticulture and the environment.
"Businesses like ePlants play an essential role in nurturing future generations. Now, more than ever, is the time to equip our youth with invaluable skills, ones that aren't always taught within the confines of a classroom. This is a shared responsibility. We need to offer people a chance, recognising that a skilled workforce benefits us as much as it benefits them."
BUSY At Work attended the State Queensland Training Awards on Saturday, 9th September, and cheered on ePlants Nursery and all the businesses that provide skills opportunities for young people!
In conclusion, Ali stated, "Being a finalist in these awards meant a great deal to ePlants. It symbolises a validation of our efforts and accomplishments, particularly in the context of ePlants' mission to support the skill development of Queenslanders. Becoming a finalist serves as a clear indicator that our organisation is effectively contributing to the up skilling of individuals in our region."
Find out more about the State Queensland Training Award finalists and all the winners on the night.
Find out more about BUSY At Work's Apprenticeship Support Services for business.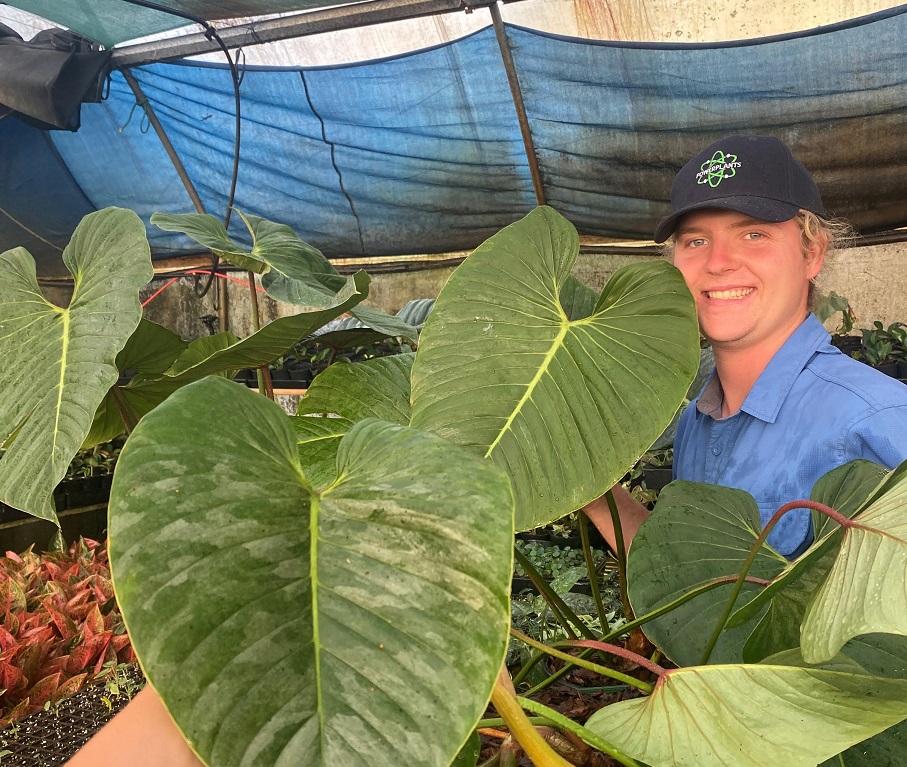 Bayley, now 21, began as a school-based horticulture trainee with ePlants Nursery.