And it wasn't just the boys lining up for the career path opportunities with Hastings Deering! The growing trend of young women entering the traditionally held male trades was evident with 6 women also starting new career pathways, born from an interest in engineering or mechanics.
One of the newly signed female apprentices from Mackay Queensland, Nadia Beyer said "I gained an interest in mechanics through working in the shed with my dad. This inspired me to complete a Certificate II in Process Plant Operations and I'm really keen now to start my apprenticeship in Diesel Fitting. My goal is to work myself higher up the chain".
Hastings Deering, who employ over 3,000 employees across 23 business service centres, deliver support and parts distribution services across a range of industries including mining, general construction, civil transport and commercial construction, power systems, government, primary industries and marine. Their award-winning apprenticeship support program has been highly successful in training up the next generation of skilled workers. In 2020, Hastings Deering came close to winning the National Training Awards for Employers of Apprentices, having won both the Metro and State awards, and over the years they have received multiple finalist awards in the annual Queensland Training Awards.
Katrina Shaw, Capability Manager at Hastings Deering said "We have a very robust apprenticeship program that is very flexible, inclusive and runs across all our business centres in Queensland, Northern Territory, New Caledonia and Papua New Guinea. We have been training apprentices for many years and have received industry awards in recognition of our program.
"At Hastings Deering we make sure to on-board our apprentices, so everyone starts with the same level of knowledge before they head out into the workforce. At Hastings Deering we have established a strong apprentice support network our entire business to ensure that our apprentices are set up for success from the start. For us It is important that we continue to maintain a strong pipeline of apprentices.  Training our apprentices is critical to our success not only now but for the future." Katrina further stated.
Ben Danka from Brisbane is also starting an apprenticeship as a Diesel Fitter. "I was working at Woolies before this, while I was studying pharmacy at Uni. I did two years at Uni before deciding it wasn't for me. I've always been interested in working on my own cars and trucks, and really love working with my hands, so I thought this apprenticeship was the perfect fit. Hopefully I will get to stay with the company after my apprenticeship. I would love to be a field service Diesel Fitter and get to travel around Australia for work", Ben stated.
The forty apprentices have chosen from a range of qualifications including Cert III Automotive Engine Reconditioning (Engine Reconditioner), Cert III Automotive Electrical Technology (Automotive Electrician), Cert III Mobile Plant Technology (Diesel Fitter), Cert III Engineering – Fabrication Trade (Boilermakers), and Cert III Engineering – Mechanical Trade (Mechanical Fitter)
Many of the new apprentices have similar stories to Nadia and Ben, stating an early interest in mechanics, the prospect of travel across Australia and overseas, and their love of working 'hands-on' as their inspiration to pursue the trade qualifications.
Managing Director for BUSY At Work, Paul Miles stated "Apprenticeship careers offer so many opportunities to evolve with industry and new technologies. The sky is the limit for where a trade career can take you – from travelling the world, owning your own business or climbing the ranks within a large organisation like Hastings Deering. We are really excited for the 40 new apprentices at Hastings Deering and know they will be starting their careers well with such an incredible company".
BUSY At Work, an Australian Apprenticeship Support Network provider, assist organisations to skill up and plan for their future workforce through apprenticeships and traineeships and a range of employment and training programs.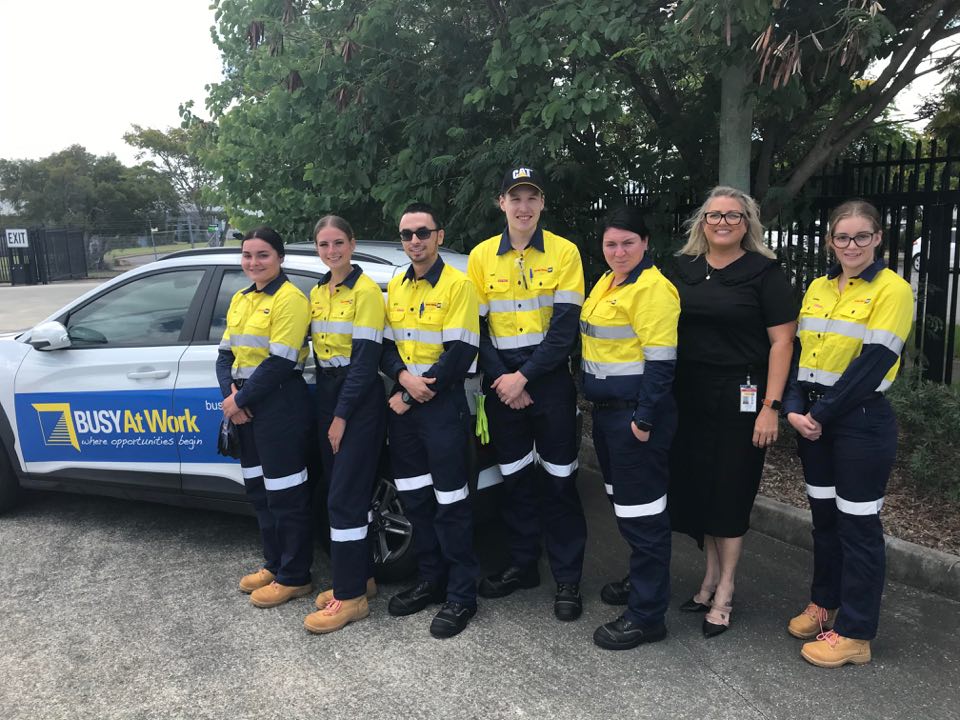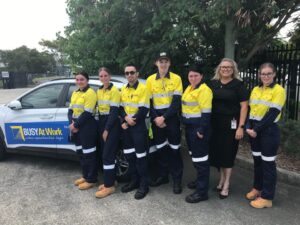 Six of the forty newly signed up apprentices who are all excited to be starting their careers through qualifications in Automotive Electrics or Diesel Fitting with Katrina Shaw, Capability Manager at Hastings Deering. From L-R, Zoe Cook, Nadia Beyer, Ben Danka, Mitchell Onions, Ashley Walsh, Katrina Shaw and Dana Madeley.
For more information visit www.busyatwork.com.au

MEDIA CONTACT:                     
Michelle Ryan, BUSY At Work
0407 169 029 or email michelle.ryan@busyatwork.com.au