The annual CoAct Awards celebrate individuals who have made a significant impact in their employment services industry and apprenticeship support network roles throughout Australia. They recognise the importance of acknowledging those who go above and beyond in their work. CoAct is a national network of community service providers working together to deliver employment services and support social and economic opportunities for Australia's disadvantaged. The annual awards serve as a platform to honour outstanding talent, innovative thinking, and exceptional contributions, ultimately fostering a culture of recognition and inspiring others to push the boundaries of what is possible. 
This year, BUSY At Work Employment Consultant, Melanie (Mel) Rutene, was honoured to receive the CoAct Steve Lawrence Employment Consultant of the Year Award, an award that acknowledges outstanding service delivery to job seeker candidates.
Mel previously hailed from a 20-year career as a football manager in rugby league, including managing at an international level in rugby league for 10 years. She started with The BUSY Group five years ago in the National Contact Hub, fielding enquiries from across The BUSY Group. This fuelled her passion to help people into work and approximately a year ago, she progressed her role to Employment Consultant for BUSY At Work's Workforce Australia Employment Services, working from the Beenleigh office and, along with her team members, servicing the Beaudesert, Beenleigh and Browns Plains regions.
"I think an outstanding employment consultant is one that shows passion for what they do as well as empathy – listening to what the client has to say but without judgement. A lot of clients I speak to say they often feel judged, or that they are treated like a 'dole bludger'. One of the first things I say when I meet people is that I am here to help, not to hinder. Being honest from the start with my clients, so they know what is expected when they work with me, that I am here to help them.
"The best part of my job is when I meet someone for the first time, they may initially be afraid, they are stepping into the unknown. I like to see them walk out after that first meeting looking forward to what is coming up. I may have put them forward for workshops or jobs and they feel excited.
"I also have a strategy I used in my football years where I will give each of my clients a marble and I hold them responsible for that marble. When they get a job, they come back with the marble and place it in a jar I have here. I have a caseload of 166 so I started off with a pack of 150 marbles and so far, I have given out 56 marbles and 47 of them have been returned. This helps me see the results too! I even had a client who was in ICU (he had a burst bowel, and it was touch and go for a while), and when he woke from his operation the first thing he asked the nurses was where his marble was!"
Humbly, Mel also believes the whole team really deserve the award, and commended her co-workers, her team leader and her regional manager for the support they provide.
"For my award, this is not just a personal award for me, it is an award for my team and The BUSY Group. BUSY gives me the platform to be real, they allow me to do what I do!"
Sharon Potaka, General Manager of Employment Services and Programs for The BUSY Group stated, "Mel's dedication and commitment to making a difference is of credit to her. We are super proud of Mel's achievements that have led to her winning this award." 
BUSY At Work deliver a range of skills, education and employment programs throughout Australia and partner with CoAct to deliver the Australian Government's Workforce Australia Employment Services and Disability Employment Services.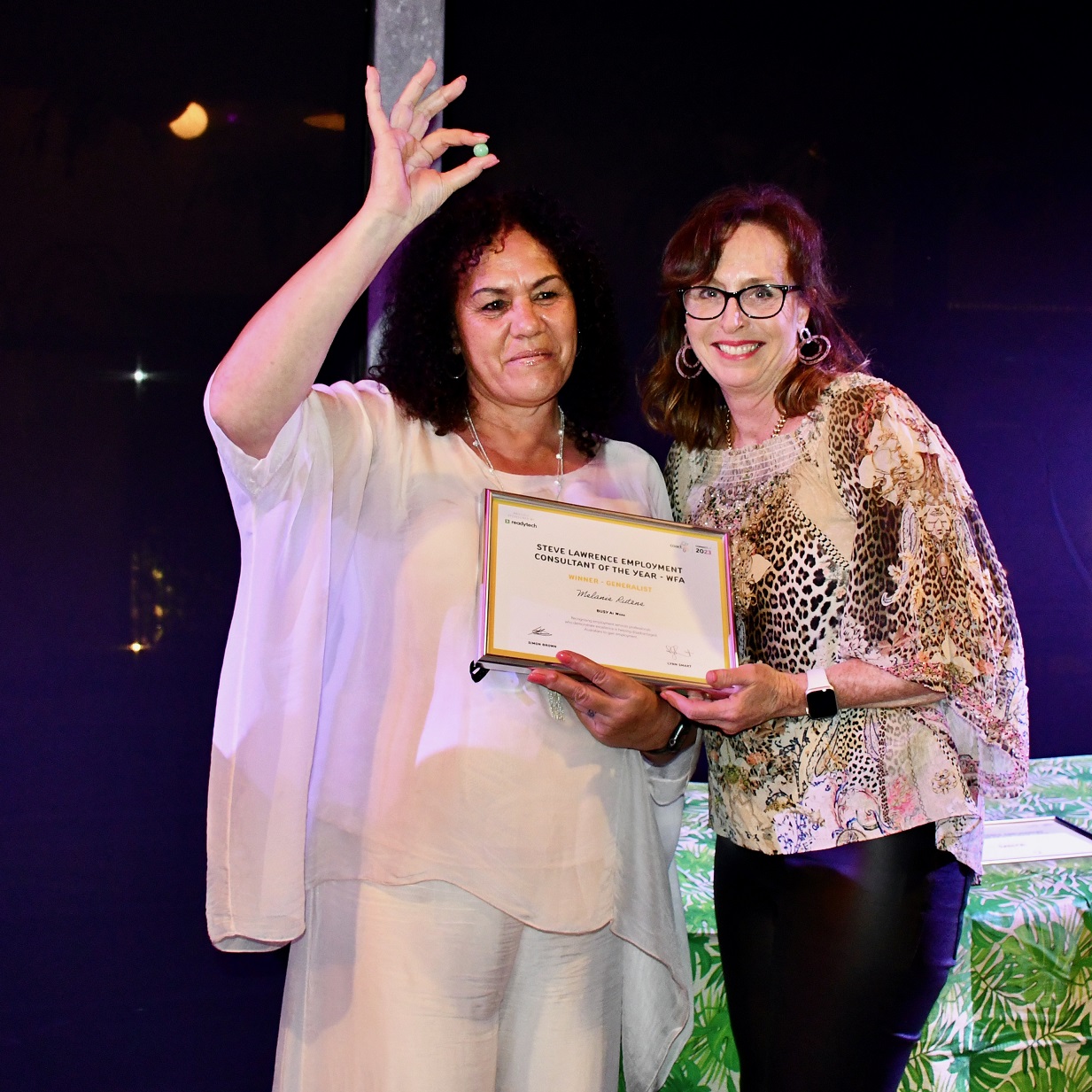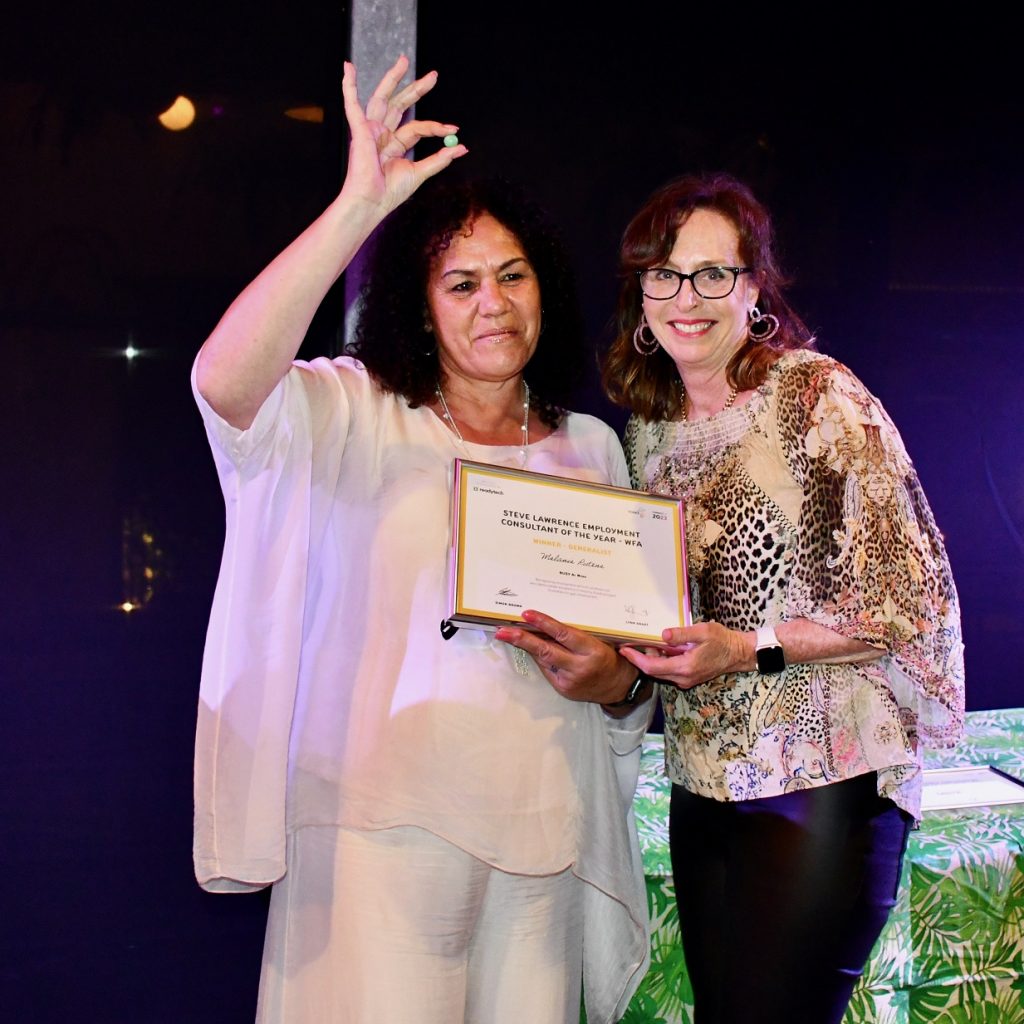 Mel Rutene (L) receiving the CoAct Steve Lawrence Employment Consultant of the Year award and holding up one of her marbles.