Twelve months ago Indigenous employee Dale Messina made the decision to quit his former job to take up a new career opportunity with one of Australia's largest landscape construction companies, Dig-It.
While Dale had been working in a landscaping position since leaving school he felt he had grown stale and was wanting to gain qualifications in his field that would help him explore other work opportunities in the industry.
In April this year with the support of BUSY At Work, Dale enrolled in the Statim-Yaga program, an Initiative of Hutchinson Builders which focuses on supporting Indigenous employees in the construction industry.
The program, which kicked off in November 2015, is funded by the Australian Government's Employment Parity Initiative (EPI).
BUSY At Work Project Coordinator/Mentor Robyn Donnelly said BUSY had partnered with Australia's largest privately owned builder Hutchinson Builders to deliver the Statim-Yaga program. Statim-Yaga is derived from Torres Strait Islander Creole and the Jagera language and means to "start work."
"Since January this year we have been working with Hutchinson Builders to deliver mentoring support and career planning to eligible Indigenous apprentices, trainees and their employers."
"Dale has been an enthusiastic participant in the program for four months and we have been providing mentoring support to both Dale and his supervisor at Dig-It."
"Since taking on an apprenticeship with Dig-It, Dale has performed exceptionally well and we are delighted that he is now studying for his Certificate III in Parks and Gardens," Ms Donnelly said.
As part of his new role, Dale has been carrying out general landscaping maintenance on the light rail project between Broadbeach and the Gold Coast University Hospital.
"I really enjoy being outdoors and doing the mowing, pruning and mulching while studying at the same time."
"Once I complete my apprenticeship I would be keen to get my machinery tickets and look at what other jobs I can do in the landscaping business," Dale explained.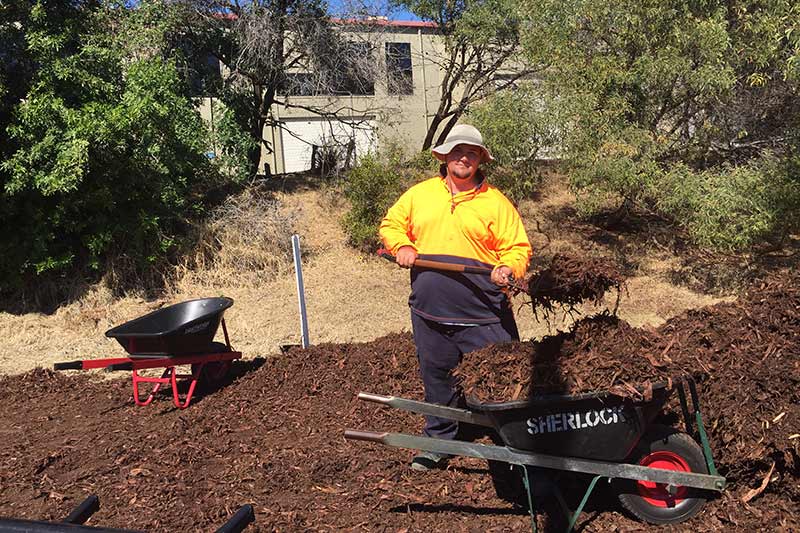 Dig-It Supervisor, Brent McCauley who has known Dale for 10 years said Dale was a committed and motivated employee who was always keen to take on extra responsibility.
"Dale has a wealth of experience in the industry and he is always prepared to help a new employee and take him under his wing to show him what is required."
"Dig-It are always looking for team leaders and I believe the sky is the limit for Dale in this industry once he completes his trade," Mr McCauley said.
BUSY At Work Managing Director, Paul Miles said BUSY was pleased to be supporting businesses like Dig-It in helping Indigenous job seekers gain a career in the landscaping and construction industry.
"We are delighted that Dale has made a great start to his apprenticeship and is now well on the way to achieving success in an industry he is passionate about."
"With the mentoring support provided by BUSY At Work, Hutchies Statim-Yaga program offers immense opportunities for Indigenous job seekers to gain formal qualifications and genuine career paths in the construction industry," Mr Miles said.
The Statim-Yaga program is open to
Indigenous Australians looking for a career in the construction industry
Construction industry employers wanting to hire an Indigenous apprentice
For more information contact Alwyn Simpson on 0417 875 005.
End
MEDIA CONTACT:
Leanne Macnamara, Public Relations Coordinator
0438 173 960 | leanne.macnamara@busyatwork.com.au