Still in school but want to get ahead?
If you're still in school but looking to get a head start in a career, check out school-based apprenticeships or traineeships. You can continue towards finishing school while kick-starting your career by working one day a week. By the time you finish high school you'll have completed a portion of your apprenticeship or traineeship, have gained work experience and references for your resume and often you will have the opportunity to convert the apprenticeship or traineeship into a full-time gig once you leave school.
There are more than 500 qualifications that you can go for with a school-based apprenticeship or traineeship so you're bound to find one that you love. We work with you, your school and your parents to ensure we're all on the same page – and you get the best head start you can.
To learn more about school-based apprenticeships or traineeships, simply complete the form below and one of our friendly team members will be in touch with you soon!

Download PDF School-based Apprenticeships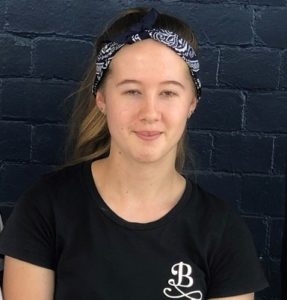 "My goal is to turn my Commercial Cookery apprenticeship into a career dream that will allow me to  travel the world".
Julia Walker, Apprentice Commercial Cookery
*THE BUSY GROUP LTD trading as BUSY At Work is a service provider contracted by the Australian Government as represented by the Department of Education and Training to provide support services to prospective and current employers and Australian Apprentices. THE BUSY GROUP LTD is one of a number of Network Providers in Queensland and Western Australia. This website does not represent the Australian Government, if you wish to access information about the Australian Apprenticeships, from the Australian Government you should access the Australian Apprenticeships website.