With a room full of hopeful apprentices, trainees, and business leaders, the 2023 Queensland Training Awards was held last weekend (9th Sept). BUSY At Work were major sponsors of the awards night that celebrated vocational skills and its vital role for Queensland's business success and economy.
All the finalists from the regional awards held throughout the State over the last few months came together. The attendees listened to poignant stories that led apprentices and trainees to their chosen career path. On more than one occasion, you were likely to hear a pin drop in the room.
Like the story of Gabrielle, a now-qualified, light vehicle mechanic who inherited a love of cars from her father and is now working for Triple 8 Racing. Gabrielle won the Harry Hauenschild Apprentice of the Year on the night. Read more
"The amount of progress I have made in such a short time – I've only been in the industry for five years. I started off in country bush New South Wales and now I'm working for one of the biggest race companies."
Or Charlotte Ross, an IT trainee with ONGC who underwent heart surgery just two months prior to commencing her traineeship. Charlotte persevered and is now eager to take on more challenging roles, supported through BUSY At Work's BUSY Sisters mentoring program which empowers women across Australia to enter trade careers. Charlotte won the Bob Marshman Trainee of the Year award on the night, presented by Cassandra Horan, General Manager of Apprenticeship Support Services at BUSY At Work.  
Businesses on the night were also celebrated. White's IGA on the Sunshine Coast won the Large Employer of the Year award for prioritising training for their 500 employees across their six stores. White's were also recognised for developing an innovative training platform that now supports more than 1,400 stores across Australia.
Ethan Fox, People & Culture Coordinator for White's IGA, said, "Skills training has a direct impact on our people's productivity and performance as well as employee satisfaction and retention. White's IGA strives to give our staff the tools and resources to help better understand their responsibilities so they can really excel in their role as well as making them feel valued and fulfilled." Read more
Cassandra Horan said, "The Awards night was incredibly moving, hearing some of the challenges that finalists and winners overcame to commence a career path. The ambitions of all the finalists were also impressive. These are our future business leaders, and their talent and work ethics are encouraging.
"Vocational Education plays such an important role in Australia for addressing skills shortages. It's incredibly encouraging to see the diversity of our apprentices and trainees entering vocational education. Like Gabrielle and Charlotte, both females entering traditionally male-dominated industries. BUSY At Work are proud to be major sponsors of this event and look forward to continuing our support."
Read more about the QTA Award Winners.
Read more about The BUSY Group's workforce planning services.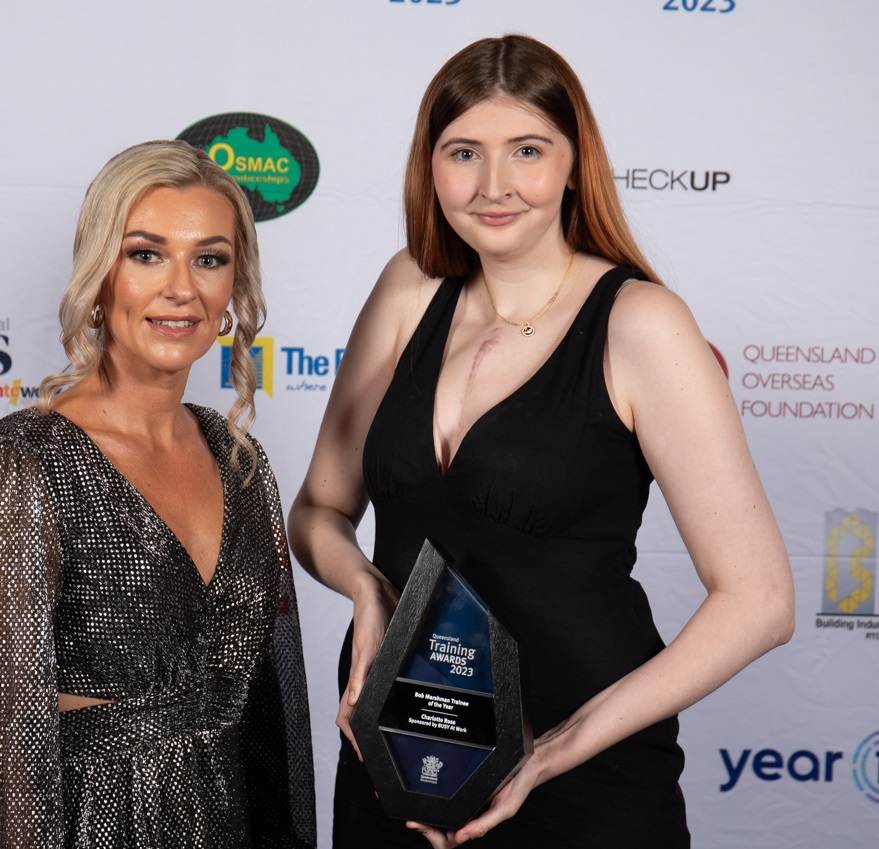 Cassandra Horan from BUSY At Work with Charlotte Ross who received the Bob Marshman Trainee of the Year award.