Recently announced as the Harry Hauenschild Apprentice of the Year for Darling Downs and South West Queensland, Gabrielle Clift is a qualified light vehicle mechanic who is also encouraging other young women to enter the industry, volunteering as a mentor for Motor Trades Association.
Gabrielle's passion for mechanics began at a very young age when her father, a local truck driver who did a lot of agricultural farm work, used to take Gabrielle with him to work. Gabrielle watched her father maintain the machinery while she played with spanners and got amongst the grease and dirt. As she grew older, Gabrielle passed up going to university (which was her original plan), drawn more towards the hands-on work that really excited her.
"I did twelve months driving heavy machinery and a few casual, seasonal jobs. The thing that really got to me was when a machine was broken down it had to be locked down, no one could touch it and production stopped. I thought, this is ridiculous! I got interested, like how does this stuff work and how can we fix it?  I did a bit of work experience in a diesel shop, and they offered me an apprenticeship which I took.
"It wasn't straight from school, there was a bit of here and there in between but I found my natural path which was working with mechanics. It's something dad and I have in common and when I see him we're always talking about fixing things. I wouldn't change this job now for the world, I couldn't imagine myself doing anything else really."
Gabrielle had a few stops and starts with her apprenticeship too. "In my first year, I was very green and didn't know a thing. My first employer didn't work out, and I was often told to work things out for myself which was daunting, I got nervous about my work and was too intimidated to ask for help. If I had of stayed at that place, I wouldn't have finished my apprenticeship, it would have degraded me completely."
Gabrielle approached BUSY At Work, an Australian Apprenticeship Support Network provider, for advice and they assisted her to continue her apprenticeship with another employer, Highfields Mechanical in Toowoomba.
"When I came to Highfields it was a complete change of atmosphere. I could openly go to my managers and say 'hey, I need help, or this isn't working', or even as far as, 'hey, I've made a mistake can you help me fix it?'  The thing is, for an apprentice, you will make a lot of mistakes, you're just learning. It was such a different dynamic from the first place I was at. Sometimes my manager would laugh and joke about my mistakes, he was so easy to approach.
"I think being a female in the industry, for a long time I thought I had to work harder to prove myself. But I've never had anyone say to me directly 'you're a girl, you can't do this'. In the back of your mind though you can think 'maybe if I was a guy this would be easier' but it's not the case at all, you just need to find a way to do it.
"A lot of mechanics these days, they don't care who you are they just want you to work! I love working, I love being busy and tinkering with stuff. If I'm going to be doing something for a long time, I want to enjoy it!"
Gabrielle is no stranger to winning awards for her work either. She has previously won the MTAQ Capricorn region Apprentice of the Year and MTA Queensland's Apprentice of the Year in 2020. Part of her prize gave her the opportunity of work experience with Triple Eight Race Engineering, and she impressed them so much she was asked to join the crew at the Bathurst 1000 and is now working for Triple Eight full-time.  Triple Eight Race Engineering, branded as Red Bull Ampol Racing, is an Australian motor racing team competing in the Supercars Championship.
"The amount of progress I have made in such a short time – I've only been in the industry for five years. For someone who has started off in country bush New South Wales and then made it all the way up to the city and now I'm working for one of the biggest race companies, I think that is an achievement in itself. Every time I do a new job at work or when I finished a unit in my qualification though, that was the real highlight, learning new things. Passing that knowledge onto other people now, that's also a highlight for me."
When asked what Gabrielle's ambitions for the future is she stated, "Every door is an opportunity. My goal is to work towards running my own business one day. I have dreams of teaching people as well and I also want to learn as much as I can. There is so much more technology and smarts to it now. As I've grown older, I've appreciated learning that technology and there is so much to learn – every car manufacturer is different to the other!"
 "I seriously encourage anyone who wants to try a trade career to do so. Everyone is looking for tradespeople these days, any trades not just mechanics but carpenters, electricians, and others. You'll never know unless you give it a try and there is always someone willing to help you go further!
"What BUSY At Work do is great, they supported me when I needed to find a better workplace and were always there to support me, checking in with a text or a phone call. Sometimes apprentices who are stuck in a situation where they can't speak up, it's always good to have that mediator that can support them."
Gabrielle went on to win the Harry Hauenschild Apprentice of the Year at the 2023 Queensland State Training Awards and will now be a finalist in the National Training Awards held later in the year.
Find out more about BUSY At Work's Apprenticeship Support Services as well as support for women entering a non-traditional trade.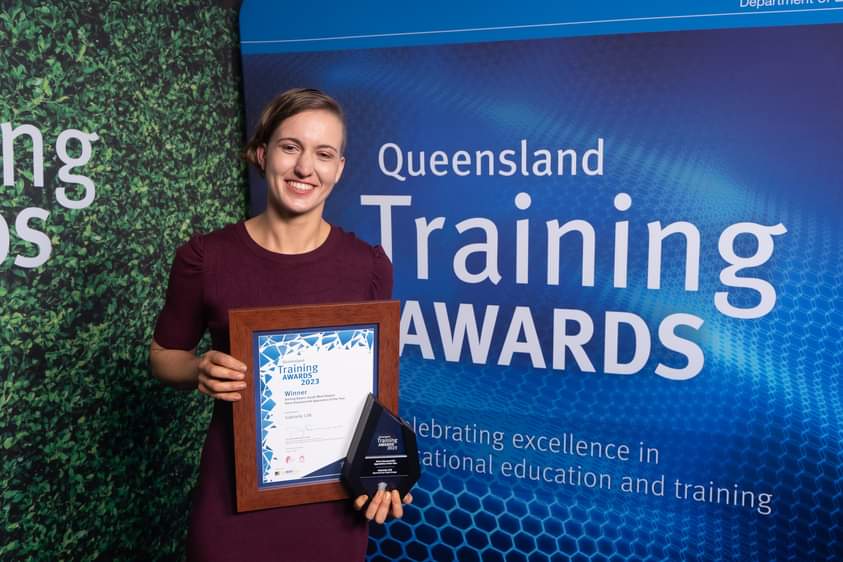 Gabrielle who completed an apprenticeship in Light Vehicle Mechanics and is now working for Triple Eight Race Engineering, received the 2023 Regional Queensland Training Awards 'Harry Hauenschild Apprentice of the Year' for Darling Downs and Southwest Queensland region. She will now enter the State awards and if successful, the national awards.