After having experienced many highs and lows during his short working career, twenty five year old Gold Coast local Lucan Campbell is now well on the way to having a big future in the building industry.
Two years ago the Gold Coast local started up his own business as Director of Build FX Constructions and with business going well, Lucan has recently signed up his first apprentice through BUSY At Work.
BUSY At Work's Senior Industry Training Consultant for Australian Apprenticeship Support Network (AASN), Darrin Larney said Lucan had come a long way since signing up with BUSY as a school-based apprentice in carpentry in 2008.
"Lucan was one of the first students to graduate from the Australian Industry Trade College (AITC) and still has close ties to the school and we are delighted that he is now achieving success in his chosen career," Mr Larney said.
AITC Consultant, Camille Carroll said Lucan had overcome many obstacles in his life but had never given up on his dream of one day owning his own business.
"Lucan started with us as a Year 11 student in March 2008 and after only a few weeks of work experience was offered a carpentry apprenticeship with respected local company Urban Trend Construction."
"During the first two years Lucan worked very diligently but with changing life circumstances, Lucan was unable to continue his apprenticeship and found himself in and out of work during the next two years."
"In 2012 with the support of his father and his employer, Lucan was offered another chance and signed up to complete his apprenticeship with Urban Trend Construction in Mackay," Ms Carroll said.
Since then Lucan hasn't looked back and after completing his apprenticeship, Lucan has now achieved his dream of owning his own business.
As for the future Lucan is now looking to buy his own home and is thankful for the support he has received over the years.
"I am grateful to the AITC, BUSY At Work, Urban Trend Construction and my best friend Nerine who have continued to support me throughout this journey," Lucan said.
Now an authorised builder through Garth Chapman Queenslanders, Lucan has successfully built houses in Mount Tamborine and Beenleigh and is now working on a 850 square metre house in Canungra in the Gold Coast Hinterland.
While wanting to achieve some big goals in the industry, Lucan still has his feet firmly planted on the ground and is keen to continue the learning process in a trade he is passionate about.
"I love working with timber and seeing the results of my work. It's great to be able to deliver a house that the client is going to enjoy possibly for the rest of their life," Lucan said.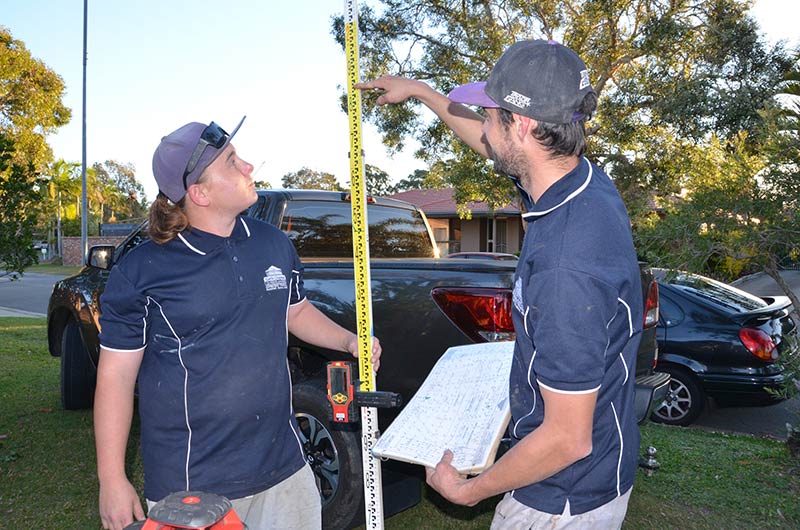 As well as employing his first apprentice, Kyatt Watson last month, Lucan is also keen to sign up a school-based apprentice with the AITC in the near future.
"Taking on an apprentice is definitely worthwhile. There is a lot to learn in this business and it's important to be able to pass on your knowledge and skills to the next generation," Lucan added.
BUSY At Work, CEO Paul Miles said BUSY has a long standing relationship with the AITC who continues to support young students in completing their Queensland Certificate of Education whilst starting a career in a trade of their choice.
"BUSY At Work has always played a key role in growing school-based apprenticeships that lead to long term permanent opportunities and we are delighted to work with the AITC in providing highly skilled employees for the future."
"We congratulate Lucan on the successful start to his building career and know that he will continue to make a valuable contribution in the construction industry," Mr Miles said.
End
MEDIA CONTACT:
Leanne Macnamara, Public Relations Coordinator
0438 173 960 | leanne.macnamara@busyatwork.com.au