Recruiting apprentices in your workplace
BUSY At Work take all the hassle out of recruiting apprentices or trainees in your workplace. Our careers and placement team know that every industry requires a different set of skills, and they are dedicated to finding the right person for your workplace and the role.
We'll discuss your vacancy with you and let you know about any financial incentives that you may be eligible to receive. From there, we'll advertise your job, manage the application pre-screening process and provide you with a shortlist of eligible, job ready candidates for you to interview.
Once you've found your new employee, BUSY At Work can take care of all the sign up and training contracts, assist you with lodgements and claim forms and offer ongoing mentoring support for your new apprentice or trainee to ensure they stay in the job and understand your work expectations.
CONTACT US about recruiting an apprentice or trainee for your workplace.
Benefits to your business and your industry!
There are many ways an apprentice can benefit your business, strengthen your industry and make your working life easier. You can gain an extra pair of hands, skill staff for your business needs and succession planning, ensure your industry has the right future skills and much more!
At BUSY At Work we make the whole process of recruiting apprentices or trainees easy, whether up-skilling an existing employee or hiring a new employee for your business.
Incentives for Employing an Apprentice or Trainee
Your business may be eligible for financial or government incentives when employing a trainee or apprentice. More information can be found in our Guide to Incentives
New incentives from July 1, 2019
New incentives were introduced on July 1 to address additional identified skills shortage and to support small businesses in regional and rural Australia. Read more
Contact us
If your business is ready for its next employee, simply fill out the Contact Form below or call 13 28 79
More Information
Download information:
Employers Guide to Apprenticeships
A-Z Guide for Apprentices and Trainees
Gateway Services and In-Training Support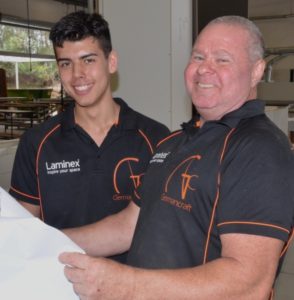 "We recruit new apprentices each year and always promote from within. When we first opened our doors we hired our first apprentice who has now sent his son to us to be a cabinet maker. One of our former apprentices is also now our Operations Manager!"
Tony Grannell, Director, Germancraft Cabinets

*THE BUSY GROUP LTD trading as BUSY At Work is a service provider contracted by the Australian Government as represented by the Department of Education and Training to provide support services to prospective and current employers and Australian Apprentices. THE BUSY GROUP LTD is one of a number of Network Providers in Queensland and Western Australia. This website does not represent the Australian Government, if you wish to access information about the Australian Apprenticeships, from the Australian Government you should access the Australian Apprenticeships website.