Recently, twelve participants celebrated the completion of a ten-week Skilling Queenslanders for Work course, 'Rising Stars of Hospitality', delivered by BUSY At Work. The course was delivered on site at Hilton Brisbane and provided a hospitality qualification as well as practical training within hotel backroom operations.
Two of the participants, Andrea and Naomi, are now employed by Hilton Brisbane and other job seeker participants are now busily being placed within the hotel industry.
Andrea, who gave a moving speech during the graduation ceremony, said to the room of participants, Hilton staff, and course facilitators, "During our journey of completing this course, we learnt the values of leadership, integrity, commitment, accountability and what it means to be a part of a team.
"As we move forward into our future, we will take these skills with us and use them in our careers. Darren and Steve, as you guided us through this educational endeavor to its completion it was your dedication, motivating words, and how you inspired us every day you came in, through pain, suffering and all types of weather that made it all possible. To the Hilton Brisbane, and all their staff, we thank you not only for the space to conduct this course but the time, effort, and patience you gave us and showed us, especially while participating in work experience, and most of all the friendly smiles of all we met. My classmates, and now my friends – you guys are awesome and being with you every day really brightened this course."
Andrea finished her speech with a quote, "A wise man once told me, in order to make a difference in someone's life, you don't need to be brilliant, beautiful, or perfect, you just have to care. I believe the people I have mentioned and those unknown behind the scenes care more than anyone we'll ever meet and for that I am truly grateful."
Stephen Rowan, course facilitator, also shared his sentiments about the course, stating, "Seeing the progression from start to finish of the students is spectacular. I try not to run them as a 'Steve the mentor and you the student thing', titles have never bothered me. We become friends very quickly and try to have fun which we invariably do!
"The students are supportive of each other and equally supportive to me beyond measure. I know that when the State of Origin games were on, several of the students would watch the games together and these bonds will be there for life.
"We have students with backgrounds of serious barriers to work, who only six months ago were disengaged and with little motivation or opportunity. Now we have qualified people armed with an RSA and work experience at a hotel, namely the Hilton who hosted the Matildas squad!
"These courses work, they instil confidence, belief, motivation, support mechanisms, teamwork values and opportunities – and they change lives for the better!"
Skilling Queenslanders for Work is a Queensland Government initiative to support job seekers with gaining a qualification and practical work experience. Courses are delivered in a variety of industries where skills are required, including construction trades, forestry, retail, hospitality, health care, and many others.  Find out more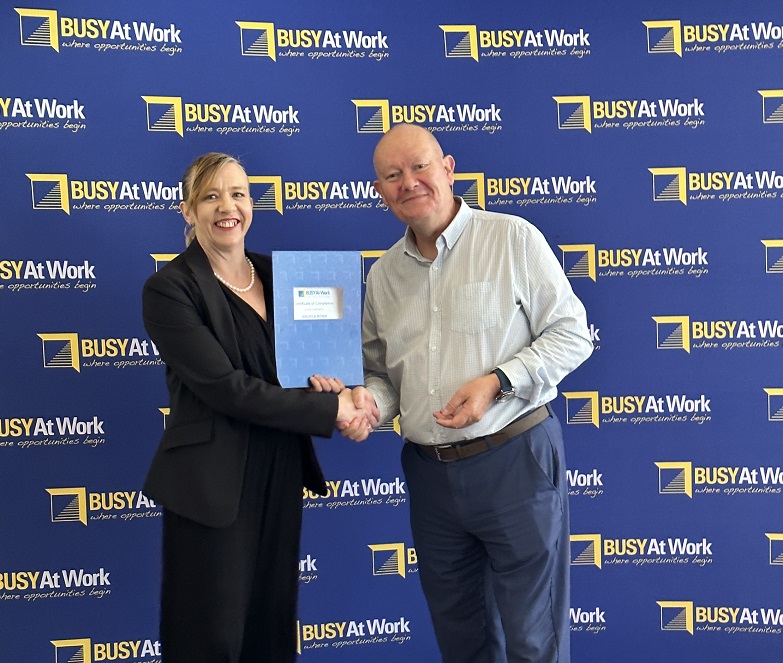 Andrea receiving her graduation certificate from Stephen Rowan, BUSY At Work program facilitator for the Skilling Queenslanders for Work 'Rising Stars in Hospitality' course.