After nearly 50 years in the cabinet making business it's fair to say that Tony Grannall knows a lot about the industry he has helped pioneer.
Family owned and operated since 1991, the Director and Founder of local Gold Coast company, Germancraft Cabinets is justifiably proud of the company's reputation as one of Australia's largest leading custom cabinet makers and manufacturers.
The company offers one of the best showrooms in Queensland featuring many unique and sophisticated kitchen and bathroom designs.
BUSY At Work Industry Training Consultant, Bev McPherson said BUSY had developed an excellent working relationship with the company.
"Germancraft Cabinets are a dynamic local company who we have been supporting for the past 12 years.They provide fantastic career opportunities for apprentices as well as a continuous learning environment for all their employees."
"They are very supportive of the apprenticeship process and passionate about developing their own supply of world class tradesmen and high quality product designers," Ms McPherson said.
Tony said Germancraft's success is based on not only incorporating the world's best practices into the manufacturing processes, but also ensuring they had a highly skilled workforce who could bring their high quality products to fruition.
"We are renowned for design excellence and quality and always strive to be world's best practice in everything we do."
"We are committed to employing and training our staff to ensure they have a total understanding of the intricacies involved in creating quality, custom made cabinetry from the ground up."
"We believe very strongly in the apprenticeship system and training our staff to be exceptional and to be the best that they can is part of our company ethos," Mr Grannall said.
Tony said a big part of the company's success was about recruiting new apprentices and ensuring staff had the opportunity to grow within the business.
"We recruit new apprentices each year and always promote from within. When we first opened our doors we hired our first apprentice who has now sent his son to us to be a cabinet maker. One of our former apprentices is also now our Operations Manager," Mr Grannall said.
Tony said the cabinet making trade had changed dramatically during the past 50 years and it was important for local Australian companies to continue to develop highly trained tradesmen for the future.
"We need to continue to be a nation of people that build things. Having a trade is a great foundation for success and apprenticeships can be a passport to the world."
"While it is always important to maintain basic hand skills, many trades now require higher technical skills and a knowledge of computers and programming."
"Progression in the cabinet making trade is unlimited with many of our tradesmen going on to become skilled technicians and designers," Mr Grannall added.
One young person who has recently signed up with Germancraft Cabinets through BUSY At Work is Gold Coast local Ethan Parish.
Having recently commenced his Certificate III in Cabinet Making, the 17 year old is enthusiastic about working in the cabinet making industry.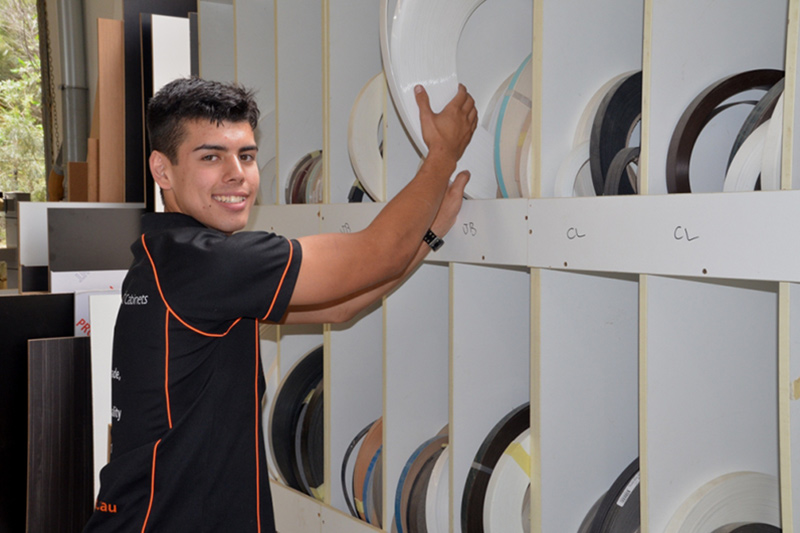 "I like to use my hands and enjoy the crafting and creative side of the trade. I'm learning how to make the different components for the kitchens and I'm looking forward to being able to go out on site and help with the installations."
"All the staff are very supportive and I like the family environment here," Ethan said.
BUSY At Work, Managing Director Paul Miles said BUSY was delighted to partner with Germancraft Cabinets in helping to train young people in a wide range of career options in the cabinet making industry.
"Germancraft Cabinets have developed an excellent reputation for their award winning team of designers, creative products and high quality tradesmen."
"BUSY At Work is committed to growing Australian apprenticeships and with a growing demand for cabinet making services we are delighted that Germancraft Cabinets continues to inspire young people and provide highly skilled employees for the future," Mr Miles said.
End
MEDIA CONTACT:
Leanne Macnamara, Public Relations Coordinator
0438 173 960 | leanne.macnamara@busyatwork.com.au