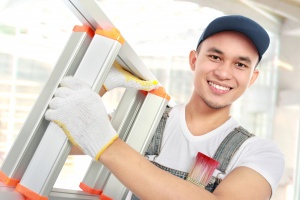 58 state finalists will compete for eleven awards at the 52nd Queensland Training Awards to be held at the Brisbane Convention and Exhibition Centre this Friday 13 September 2013.
Paul Miles, CEO BUSY At Work congratulated all finalists, in particular the seven finalists out of 11 categories, which BUSY have provided apprenticeship and traineeship support.
"I wish all state finalists the very best and congratulate them on their outstanding achievements in the vocational education training sector. It is very gratifying to know that BUSY's contribution has played an integral role for seven of our state finalists," Mr Miles said.
The Awards recognise people and organisations who strive for success, best practice and innovation in training. Winners of the eleven state awards will progress to the Australian Training Awards held in Perth on Friday 22 November.
"For a trainee or apprentice, winning an award can really enhance their career and open many doors for them. Similarly, a win for a small business will raise their profile and assist in establishing their business as a reputable employer of choice" Mr Miles said.
Below is a list of state finalists who have partnered with BUSY At Work. A full list of finalists can be found at www.qta.qld.gov.au
Harry Hauenschild Apprentice of the Year
Caleb Chiverton – Darling Downs South West Queensland regional winner
Qualification: Certificate III in Engineering (Fabrication Trade)
Bob Marshman Trainee of the Year
Josh Davis – South East Queensland regional winner
Qualification: Certificate III in Tourism
Sarah Henderson – Far North Queensland regional winner
Qualification: Certificate III in Tourism
Rhys Walsh-Tindall – Darling Downs South West Queensland regional winner
Qualification: Certificate IV in Information Technology (Networking)
School-based Apprentice or Trainee of the Year
Joshua Whitehead – Metropolitan regional winner
Qualification: Certificate III in Carpentry
Aboriginal and Torres Strait Islander Student of the Year
Breeanna Suey – South East Queensland regional winner
Qualification: Certificate III in Business
Small Employer of the Year
Dayshelf Fire Systems – South East Queensland regional winner
-ends-
MEDIA CONTACT:
Leanne de Toerkenczy
Public Relations Coordinator
0438 173 960
Leanne.detoerkenczy@busyinc.com.au